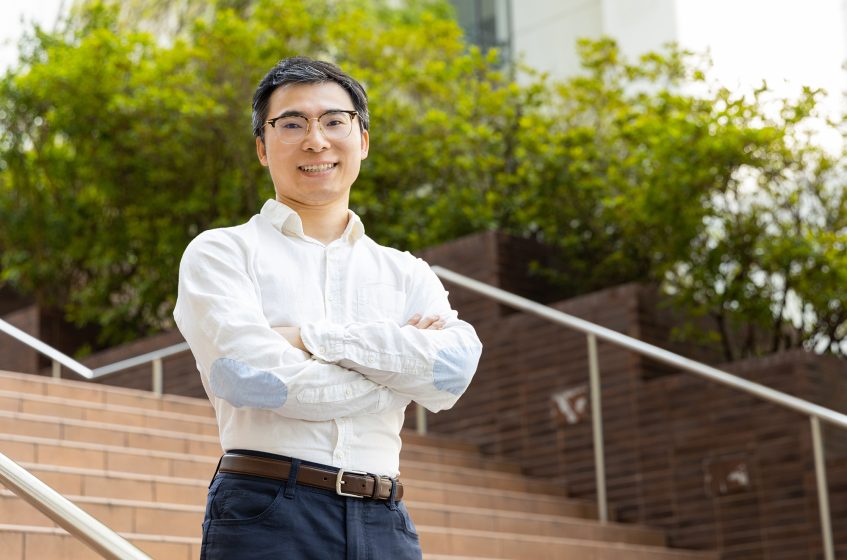 Thriving at the Forefront of Information Technologies – Dr. Zhepeng LI
16 Mar 2022
Aspired to make a difference than making a fortune, Dr. Zhepeng Li is dedicated to propel the development of information systems and machine learning technologies as well as finding opportunities to apply his inventions in real life. Believing that the state-of-the-art research facilities and the excellent academic atmosphere of HKU Business School can enable him to soar higher, Dr. Li joined us in July 2021 as an Associate Professor in Innovation and Information Management.
The chief architect of your own mansion of theories
In the digital era, data is equivalent to evidence. Managers nowadays no longer fathom business plans simply relying on their strategic intuition and past experiences. They will also take relevant data into account. However, as the quantity of data is expanding, new information tools are needed to digest new evidences into scalable and meaningful information. That said, the breakthrough in machine learning in recent years has attracted the intellectual interests of scholars and practitioners worldwide. However, instead of performing R&D work for the tech giants, Dr. Li believes that the main battle field of knowledge creation lies in the academia.
"Being a scholar has a lot of perks. You are your own boss and decide your own research topics, and I want to build a mansion of theories. A fancy mansion that houses theories at my own taste!" said Dr. Li.
Running a mall omnisciently
Dr. Li has recently invented an offline specialisation recommendation system, and successfully implemented it in a shopping mall in Mainland China. While this lengthy term may sound complicated, we have already been benefited by this technology when we clicked on the videos recommended by YouTube, or products recommended by Amazon. By analysing the behavioural patterns of its users, platforms can deliver personalised experiences to users. With the development of AI, big data, and recognition technologies, Dr. Li posited that offline businesses can now deliver personalised services beyond one or two loyal customers. In his experiment, Dr. Li explained that the mall's AI will first predict the movement of a wandering customer. Then it will signal nearby vendors, how likely this person will come to them. Information such as arrival time and customer appearances are also provided. The more shopping patterns are collected, the more accurate the prediction will be.
But there are a lot of physical constrains when implementing this technology. For example, as the location of vendor stores within a mall is fixed, offline stores can only passively respond to what will be happening in the next few minutes. In addition, the mall must also strike a balance between accurate customer description and the anonymity of shoppers. "At the end of the day, I want to help vendors to distribute their manpower more efficiently. For example, if shop owners know someone with 100% chance coming to your store, they can spare manpower to attract another customer with a 75% chance coming," said Dr. Li. Other than commercial usage, the movement prediction function of this technology has also shown great potential in law enforcement and security uses. Dr. Li sees a very bright future for his invention.
Tools to upgrade your HR department
Another line of his research focusing on how HR analytics can facilitate recruitment exercise. Most recently, Dr. Li and his student are working on incorporating VR technology in interviews. "Most people claimed they can do a lot of things. But by putting them in a hyper realistic simulation, recruiters may see the true aptitude of their candidates," said Dr. Li.
The formula of academic excellence
Researching high-end technologies requires both hardware support and an updated, relevant data pool. Therefore, HKU Business School as a regional research powerhouse that possesses strong ties with the Asian-Pacific businesses is exactly what Dr. Li is looking for. Moreover, he observes that the demand for business analytics education is growing rapidly in Hong Kong. "This is a very good sign, as the city is creating its own pool of data talents." said Dr. Li.
In the spring semester, Dr. Li will be teaching in the Master of Science in Business Analytics. He expects his students to be self-motivated, honest, and mature in communications and work. Dr. Li said, "Teachers are here to help, but students can only succeed if they have determination to thrive. As a result, your differentiating impact could be projected as shown below."