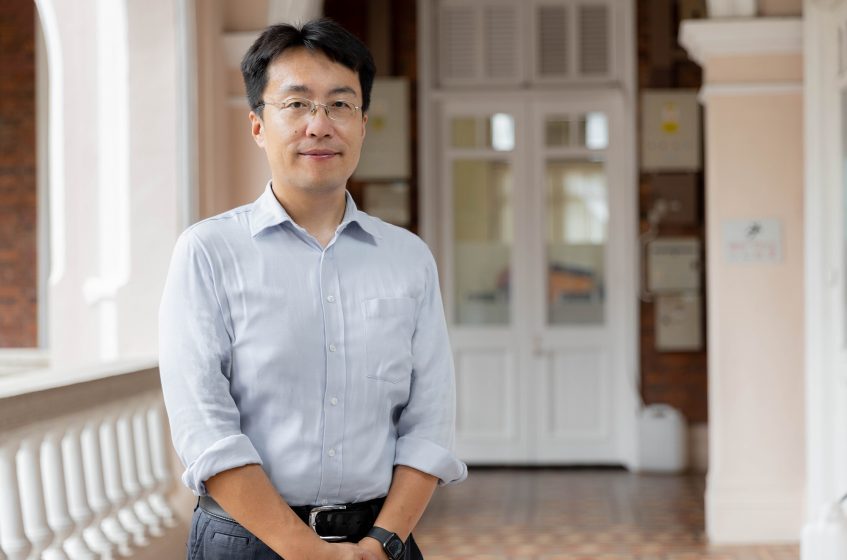 An Interdisciplinary Approach to Digital Innovation & Transformation – Professor Yulin FANG
30 Mar 2022
Professor Yulin Fang is a seasoned scholar, professional case writer, veteran IT consultant, and editor for several internationally renowned journals. Seeing HKU Business School as a supernova in the academic landscape, Professor Fang is keen to contribute his intellectual might on digital innovation and transformation to our School's journey of excellence. Having joined us in September 2021, Professor Fang is leading our School's newly formed research centre, the Institute of Digital Economy and Innovation (IDEI).
Commitment to research excellence
"To me, research is a lifestyle. I enjoy having the freedom to explore on topics that I am interested in and studying them in a scientific way. I chose the field of information systems because I saw its world-changing potential. Back in the 1990s, I observed that the IT sector was taking off and information systems was the propelling force behind. Having the opportunity to study and improve how digital technologies transform the global business landscape is really gratifying," said Professor Fang.
When walking us through his early academic career, Professor Fang stated that he is a researcher advocating for getting close to the scene on how digital technologies actually transform business. During his doctoral years, Professor Fang had been productively attending industry conferences to build his connections." My PhD dissertation was a case study on the use of collaboration technologies in product development teams of a global technology communication firm. To conduct this research, I travelled across continents to investigate three of their major production sites. Looking back then, it was quite an adventure, as the project was ultra-time consuming and riddled with uncontrollable uncertainties!" Professor Fang laughingly said that he was very lucky to have generated some meaningful, publishable results from his thesis. Eventually this scholarly entrepreneurial spirit has built him a reputation. He commented that the years of working with practitioners has allowed him to speak the same language with them. It also places him in a good position to teach MBA and Executive Education programmes.
Words to young scholars
Speaking of his adventurous doctoral years, Professor Fang would like to have a word with young scholars. He said, "Although I do not recommend young scholars to risk with their PhD dissertation, I greatly support them to reach out to the external business community by integrating research and practice. After all, it takes time to build a powerful network." Professor Fang himself for example, was as a management consultant with Accenture and Arthur Andersen prior to his doctoral studies. However, he advised young scholars, especially those pre-tenured, to focus on publishing their existing research projects before committing to more external collaborations.
The value of interdisciplinary studies
Back to research, Professor Fang told us that he always believes that interdisciplinary research is a key to achieve academic breakthrough. His research focuses are on digital innovation and digital transformation. These two streams of research heavily involve elements of information technology, marketing, management, and strategy.  For instance, Professor Fang has recently led a research team to collaborate with a large software development firm, whose major clients are global financial corporations. Professor Fang told us that the development of a good software requires a good team of diversified specialists. Other than competent programmers and interface designers, business representatives with good communication skills are also crucial to properly align the interests between developers and clients. "Good team synergies and creativity are the keys to success, but it is truly a challenge to maintain team rapport when members are scattered in different time zones," said Professor Fang. To understand the effectiveness of different collaborative technologies (such as Zoom) in maintaining effective communication and team creativity, his research team is exploring research insights through an interdisciplinary approach by integrating organisational theories such as transactive memory system theory with the information systems literature, and empirically investigating through primary data collected via multi-sourced employee surveys and in-depth interviews.
Embracing digital economy & innovation at HKU Business School
"There are many reasons why I come to HKU Business School. Its global reputation, established business case centre, powerful network of alumni and business communities, and the rich heritage of HKU are everything that business scholars need to vocalise their research. Furthermore, it is a rapidly growing faculty with great commitment to making a big impact. It is truly an honour to be a part of our School's journey to greatness," said Professor Fang. With a Golden CV in hand, he is entrusted by the Faculty management to take charge of our newly formed research centre, the IDEI. This new kid on the block will be a major powerhouse, generating the momentum needed to digitalise the Hong Kong economy.
Words to UG students: be reflective
Professor Fang excitingly informed us that he will be teaching several undergraduate classes in 2022. Engaging in knowledge exchange with young and energetic minds is always fascinating to seasoned scholars, and Professor Fang hoped that he can inspire them to be reflective future professionals. He explained that, "I hope my students can enjoy university life, maintain curiosity and open-mindedness, learn new things and earn new experiences. Whether they decide to study multidisciplinary courses, doing internships, or run a student association, go for it and then take some time to reflect on their earned experience, be it a success or failure. This is an effective way to learn from the past for a brighter future."