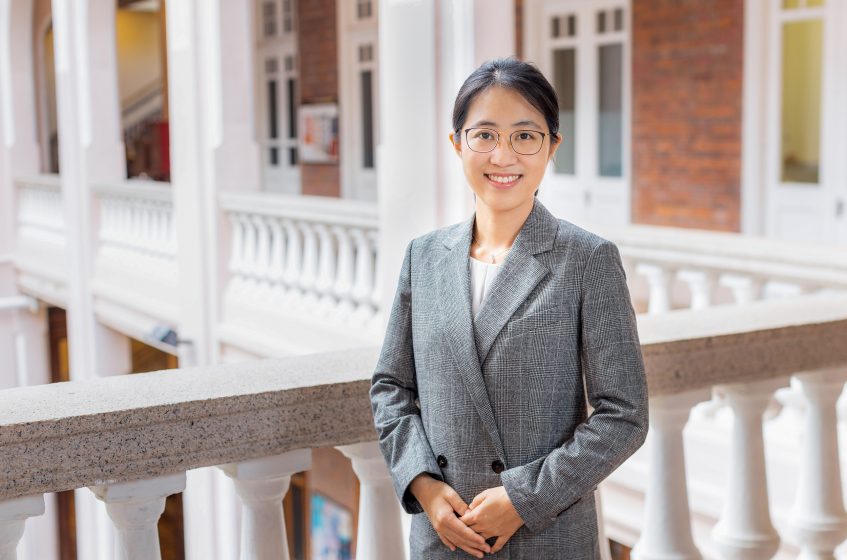 From Quantum Physics to Quantitative Marketing – Dr. Chu (Ivy) Dang
5 Jan 2022
Born with a desire to explore the unknown, Dr. Ivy Dang aspires to create positive impact to the world via knowledge creation. Starting off as a science major in Applied Physics and spending two years studying Quantum Physics at PhD level, Dr. Dang had eventually realised that her true interest lies in quantitative marketing. Dedicated to apply the quantitative reasoning and problem-solving skills from natural science to business studies, Dr. Dang has officially joined us on February 2020 as an Assistant Professor in Marketing.
The desire to advance the science and practice of marketing
Fascinated by the mathematical beauty of the universe, Dr. Dang had once aspired to understand how things work from physics and mathematical principles. But when she alighted in Hong Kong for her doctoral studies, her research interests had begun to changed. From her point of view, Hong Kong is a tech-driven, ever-changing, and fast-paced metropolis. Business elements and financial information are omnipresent, and such protean atmosphere is constantly influencing our behaviours and actions mercurially. The vibrancy and energetic nature of our city has solicited the intellectual desire of Dr. Dang to explore how individuals, business entities and society function from an economic perspective described by the mathematical formulas.
She is particularly interested in using quantitative modelling to study consumer behaviours and generating relevant managerial implications, which can advance the science and practice of marketing. She told us that "unlike the physical world, which is deterministic, predictable, testable and governed by laws of physics, the invisible hands governing business world and consumer behaviours are constantly evolving, hard to predict and sometimes require scholars to exercise value judgement. All answers could either be right or wrong over the course of time, and this really intrigues me as a science person." As the study of marketing is essentially to create, communicate and deliver value to society, she finds it a meaningful subject.
Is privacy really priceless?
Recently, Dr. Dang has conducted a research in the field of consumer privacy. She posited that understanding the value individuals place on their privacy is of great importance for business, law, and public policy. Dr. Dang observed that although some companies are increasingly collecting their consumer's data to optimise their marketing decisions, some consumers remain reluctant even when compensated. Collaborating with a leading local online lending company who offers 5 to 20% interest rate discounts to borrowers willing to provide their personal information (such as education background and social media account), Dr. Dang and her collaborators have developed an economic model to measure consumer privacy preferences and risk types, providing useful managerial implications to companies on designing optimal data collection strategies. This research is especially relevant for financial centres such as Hong Kong with rapid growth in the microloan industry. This knowledge will help microloan companies to develop risk type screening mechanisms for applicants to mitigate adverse selection. It will also provide firms and policymakers, such as the Office of the Privacy Commissioner for Personal Data in Hong Kong, with useful information to better understand local consumers privacy preferences.
Online dating: Mr. Right or Mr. Best?
While we generally do not want corporations to hoard our personal information, when it comes to love and relationships, some are very generous in showing off their true colours to their potential valentines. Researching on thousands of user behaviours in one of the biggest dating websites in the mainland, Dr. Dang and her collaborators discover that revealing too much on your bio may jeopardise your romantic luck.
Everyone has a Mr./Ms. Best in their heart, who has the ideal physical outlook and personality traits that you prefer, and with all the material merits you fancy. Mr./Ms. Right, as your lifelong companion, who might not be perfect in all dimensions, but who matches with you the best. The search of an ideal partner takes a lot of time and communication, as trust cannot be built via a lengthy bio or a few test messages. However, given that dating app is a premise for peacocking, users are often overwhelmed by boastful content regarding to material possessions and physical beauty, such that they may missed their Mr./Ms. Right in searching for the Mr./Ms. Best. This effect is mainly driven by the mismatched preferences between the two sides. Too much information shown on the bio will tacitly encourage users to look for Mr./Ms. Best based on their preferences, and thus Mr./Ms. Right may be ruled out too early without getting a chance to be contacted. "That said, leaving some room for imagination and further communication may be more conducive. After all, you don't want to miss your Mr./Ms. Right too early just based on the numbers and descriptions shown on their profiles," said Dr. Dang. In this work, Dr. Dang and her collaborators build a theoretical model to rationalise this behaviour, shedding light on the optimal information provision strategies of matching platforms.
A mutual learning experience
Other than research, Dr. Dang also seeks to step up her teaching game. Dr. Dang had developed a new undergraduate course on social media marketing. The course solicited positive responses and even students from other faculties. She told us that "I am fascinated to see that students from different academic backgrounds tackle business problems with different approaches. After all, teaching is really about mutual learning. I have learned a lot from my students, and in fact, some of my research ideas are actually originated from class discussions!"
Dr. Dang also observes that HKU students are digitally savvy and they are very aware of the changes in the business world. "As a science person, I am impressed by their strong business acumen. But as a teacher, other than teaching them how to use quantitative tools to make scientific claims, I also hope that I can encourage them to continue to stay inquisitive about the world and apply their classroom knowledge for the betterment of the society," said Dr. Dang.