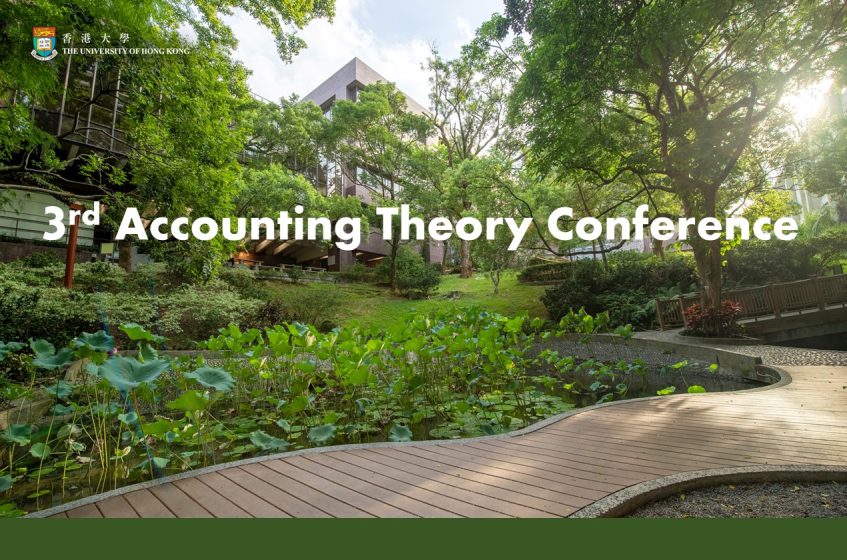 13

Dec
2023 HKU Accounting Theory Conference
13 - 14 Dec 2023 | 9:00 a.m. - 6:00 p.m. | 9:00 a.m. - 12:00 p.m.
KK 315, K. K. Leung Building, HKU
Day 1

Dec 13 – HKU Business School (Room 315, K.K. Leung Building)

9:00am-9:10am
Welcome and Opening Remarks

Xin Wang    (Area Head of Accounting and Law, HKU Business School)

9:10am-10:20 am
"Effects of climate risk disclosure on socially responsible investment"

Volker Laux, University of Texas at Austin

10:20am-10:35am
Coffee/Tea Break
10:35am-11:45pm
"An Informational Evaluation of Accounting Statement Numbers"

Pierre Jinghong Liang, Carnegie Mellon University

12:00pm-1:40pm
Lunch – 14/F, Senior Common Room, K.K. Leung Building
1:50 pm-3:00 pm
"Dynamic Contracting with Flexible Monitoring"

Ming Yang, University College London

3:00pm-4:10pm
"Real Effects of Measuring and Reporting Unrealized Fair Value Gains"

Robert Göx, University of Zurich

4:10pm-4:40pm
Coffee/Tea Break
4:40pm-5:50pm
TBA

Keri Peicong Hu, University of Hong Kong

6:00pm
Transportation to Dinner
6:30pm-8:30pm
Dinner – The Square
Day 2

Dec 14 – HKU Business School (Room 315, K.K. Leung Building)

9:00am-10:10am
"Fair Value Accounting and Debt Maturity Structure – Should we Adopt Mark-to-Funding Accounting?"

Xu Jiang, Duke University

10:10am-10:25am
Coffee/Tea Break
10:25am-11:35am
"Accounting-based Valuation with Inter-firm Information Transfers"

Bjorn Jorgensen, Copenhagen Business School

11:35am-11:45am
Closing Remarks

Pingyang Gao   (Zhang Yonghong Professor in Accounting, HKU Business School)

12:00pm-2:00pm
Lunch –海悅華宴
2:00pm-6:00pm
Activities (TBA)
*This conference is by invitation only.