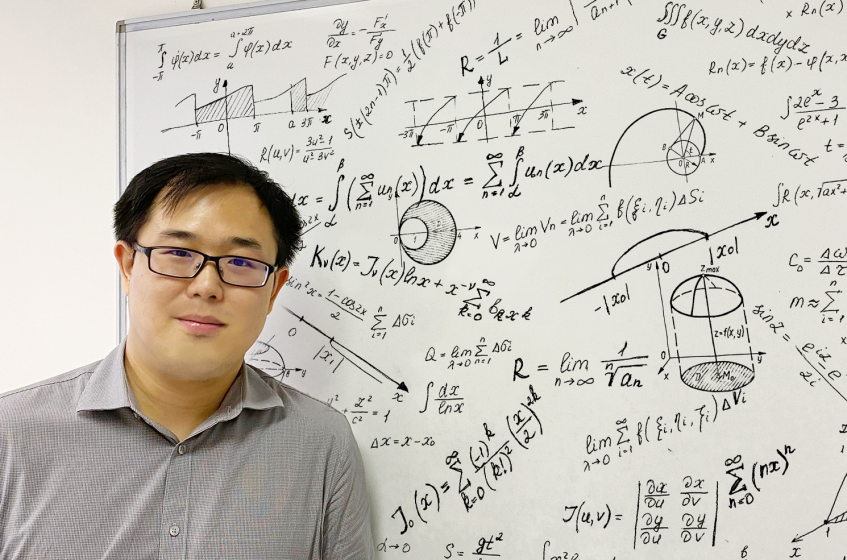 The Gardener of Local Data Talent – Dr. Weichen WANG
16 Feb 2022
The coronavirus pandemic has interrupted the lives of many, but a lucky few is bestowed with the serendipity to rethink on their life choice. Taking this opportunity to soul search, Dr. Weichen Wang has decided to follow his heart and restarted his academic journey. Joining us in July 2021, Dr. Wang is as an Assistant Professor in Innovation and Information Management.
Indulged in the joy of truth seeking
"My PhD major was Operations Research and Financial Engineering. The programme is data-oriented and complemented with statistics, computer science and financial mathematics. This delicate combination has enabled me to think and tackle conundrums from multiple perspectives. It has also encouraged me to become a scholar that can bridge and combine knowledge from different streams," said Dr. Wang. Although he has always wanted to become a scholar, Dr. Wang had eventually made a lamentable farewell to the scholarly path at the cross roads of destiny. He said, "My devotion towards research is unquestionable, but I want to see how theories are actually implemented in real business; I seek to look at the real data and participate in real business actions."
This decision had brought Dr. Wang to a 5-year odyssey in the Wall Street. "The hedge fund is a place where high frequency trading and quantitative decision-making take place. As a quantitative researcher of one of the greatest hedge funds, I was tasked to prepare market forecasts and trading strategies through empirical data analysis. This experience has awarded me with first-hand knowledge on big data, machine learning and other visionary fintech insights," said Dr. Wang. But when COVID-19 came, Dr. Wang was given the opportunity to rethink on his life choice while working from home. He commented that working in the market enables one to access to valuable data but not many practitioners have the time and privilege to dive deep, create and share meaningful knowledge. Believing that making an impact is more important than making a fortune, Dr. Wang decided to return to the academia.
"If all the knowledge in the universe are scattered around this room, all that human knows may just be within a sheet of paper. What we scholars do, is to expand our existing boundaries out of this paper bit by bit," said Dr. Wang.
The smith of financial methodologies
During his stay in the hedge fund, Dr. Wang has developed a deep interest in the crypto market. As the extreme volatility of crypto price has tremendously challenged the effectiveness of traditional risk assessment tools, Dr. Wang sees the necessity to invent new methodologies. He had also shared with us some challenges he faced during research, "Low market signals, constraints from regimes, and the bombardment of information have all made risk assessment difficult. Moreover, to make accurate assessments, we must develop a usable proxy, which requires complex statistical tools. It really requires one to have a good mathematical foundation, and some creativity."
What constitutes a 90% accuracy?
In addition to tools creation, Dr. Wang will also contribute to our School in the research of machine learning. When it comes to AI, computer scientists focus on predicting the future based on a large data set. However, statisticians focus on how accurate this prediction is. For example, if an AI determines that something is a cat with 90% possibility, Dr. Wang will investigate how accurate is this 90%. Dr. Wang humbly told us that he is still exploring the answer of this question. But from his undergraduate and PhD experience, he believes that multidisciplinary knowledge is the key. He said, "HKU Business School is renowned for its multidisciplinary research. I am blessed to have the opportunity to work with HKU's brightest minds." From his point of view, our School is not only a liberal research hub, it is also one of the largest cradles of local data scientists. As business is increasingly data driven, Dr. Wang is impressed by our School's foresight to develop and expand its data science programmes.
Dr. Wang's teaching philosophy
Dr. Wang is currently teaching in the Master of Science in Business Analytics programme. When asked whether it is stressful to balance both research and teaching, he said with laugh that teaching is his way of relaxing. He told us that his mother is a beloved undergraduate teacher, and he is aspired to follow her footsteps. Dr. Wang described himself as a patient teacher, always ready to help those student lacking statistics background to catch-up. But he expects student who already have a solid foundation to go extra mile, and think of new ways to communicate and interpret data. All in all, having the motivation to self-learn is the key to success.
In the end of the interview, Dr. Wang told us that he was bored during the quarantine. When he finally alighted on our campus, he was overwhelmed with joy after seeing so many happy faces around. He said, "I saw student busking and organising orientation activities in the campus. Simply watching them makes me feel young again."