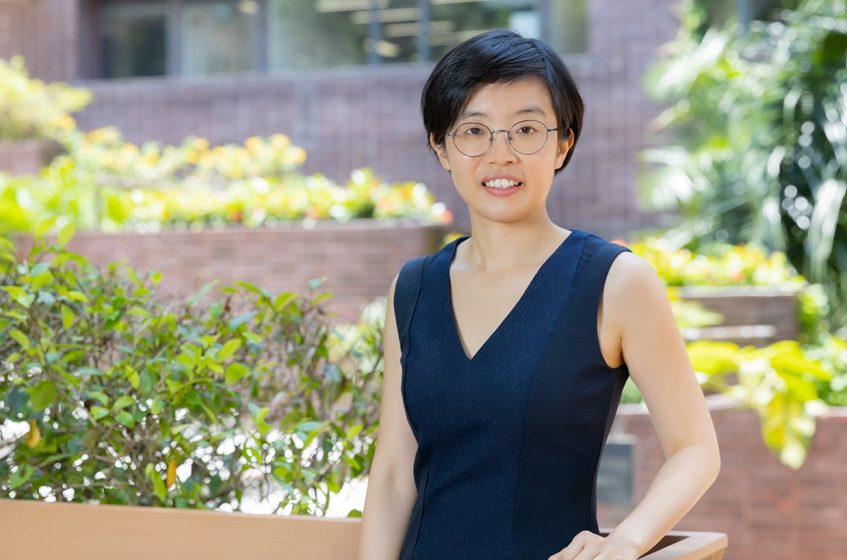 To Inspire and be Inspired – Dr. Tingting FAN
13 Apr 2022
Born with a curious mind, Dr. Tingting Fan craves to explore and explain human behaviours with scientific models. Joining us in December 2021, she is a Senior Lecturer in Marketing.
To develop a career in an industry that values "inner beauty"
"When I was studying in the Peking University's Guanghua School of Management, my classmates dressed formally to school as means to be mentally prepared for the business world. But I think to myself, do I want to a future like this?" Dr. Fan told us that she prefers to work in a place that values the inner qualities of people and appreciates her great sense of curiosity. Holding such prerequisites at heart, Dr. Fan sees the academia as her promised land. She said, "Scholars are free to express their intellectual interests from small businesses to illicit trades. In the world of knowledge, there are no boundaries but only logic. This has made this career even sexier."
Propelling market innovation with academic research
What marketing attracts Dr. Fan, is how "close" it is with our daily life. Her research focus is on "Innovation and Products" – in which she investigates what kind of innovation would succeed, and what encourages consumers to accept and reject new products. Dr. Fan believes that her research is important as her work that can provide marketers with strategic insights.
She describes "innovation" as a double edge sword: From the firm's perspective, they cannot survive without new products. The failure of Nokia and Codec are living examples, proofing that established incumbents could still get replaced by newcomers should they fail to innovate. While innovation is critical to a firm's survivability, they are understandably "scared" of innovation as inventing a new product involves a lot of risks and uncertainty. The failure of a new product, will also lead to the fall of a firm. On the other hand, while consumers claimed that they love new products, in oftentimes they are reluctant to learn how to use new technologies. That said, investors are hesitant when investing on R&D. The dynamics among stakeholders during the innovation process are a complicated topic. In the words of Dr. Fan, it is a rich and impactful area.
Latest research: what contributes to a successful crowd funding campaign?
The latest research of Dr. Fan is a team project to study what makes a crowd funding campaign successful, with a sharp focus on how social influence impacts it. In this 3-year project, Dr. Fan joined force with the internationally renowned Professor Yael Steinhart and Professor Leilei GAO from CUHK to study over 900 fund raising projects in one of the largest crowd funding platforms in China. The team utilised big data from the platform, designed 4 online experiments, and adopted interdisciplinary knowledge (e.g. Consumer behaviour psychology) to enrich the paper.
Convention beliefs advice aspiring entrepreneurs to raise their seed capital from family and friends, but the research of the team suggested that receiving generous support from your closed ones in the early stage, may adversely impact your luck to soliciting capital from strangers online. "We discovered that people are reluctant to donate to projects with a lot of seed capital. Our findings show that people may consider those fund raisers as 'winners at the starting point' and their huge seed capital cannot signal the quality of the project. On the other hand, we discovered that people are more willing to finance fund raisers starting with a smaller amount. That said, I think our paper can help aspiring entrepreneurs to develop a better fund-raising strategy." said Dr. Fan.
The findings of this paper are phenomenal, as it is the first attempt in the academia to understand how social influence could impact fund raising campaigns. Dr. Fan is grateful that her team had gained access to unique data, such as the relationship between the fund raiser and their donors, which makes their paper to stand out of the crowd. Diversity in skills and expertise among team members is another winning factor. Dr. Fan told us that her expertise in big data analysis and coding synergised greatly with her teammates' knowledge in consumer behaviour research. "Since our skills are different, we can see the research findings from multiple perspectives and fathom solutions in a rigorous way," said Dr. Fan. The paper will soon be published on the internationally renowned Journal of Consumer Research and Harvard Business Review, and it had already been featured in the Wall Street Journal and many local business journals.
After joining HKU, the same team will move on to conquer another ambitious topic – to study what makes live streamers successful. "We will be focusing on Twitch, one of the largest livestreaming platforms in the world. We will be looking at over 500 livestreaming videos and analyse the audio data, video data, text data, and many more," said Dr. Fan. When asked why would she switch base and join our School, Dr. Fan replied that she has been looking for a good platform to develop her career. "From what I heard, the culture of HKU Business School is amazing and researchers are willing to help each other out like a family. I long for such a working place, as this culture is best for knowledge creation," said Dr. Fan.
Teaching and learning from experienced practitioners
By the time this interview was conducted, Dr. Fan told us she had just finished teaching in MBA. She commented that it is not easy to teach people with rich working experience, but the key is to deliver them with something new. She believes that people must engage in life-long learning to remain relevant in a fast-changing world and it is the responsibility of teachers to make students love learning. "Marketing knowledge is fun and can be applied to explain social issues and business cases. By engaging them to have more discussions in class, I hope they could see marketing beyond sales and advertisements," said Dr. Fan.
From the perspective of a researcher, Dr. Fan believes that conducting academic research enables her to become a better teacher. She told us that researchers are required to dive deep in a question and look at it from multiple perspectives. Dr. Fan hopes that she can become a role model, and teach them how to tackle problems in a more rigorous way. "Although I am a teacher, I am also a learner. My MBA students never failed to amaze me. Not just with their practical knowledge, but also with their cultural knowledge and life experiences. These knowledges enrich my understanding towards the world and the topics I am researching on. It is such a blessing to teach MBA at HKU Business School," said Dr. Fan.