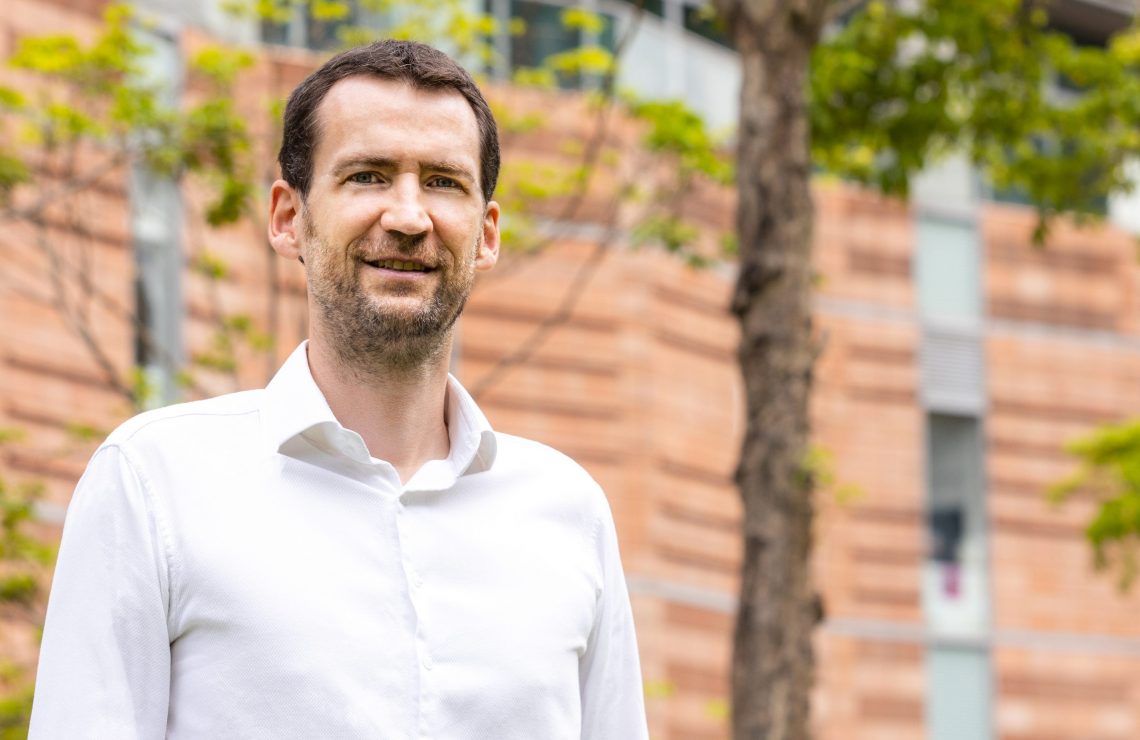 School news
To Fathom Novel Managerial Strategies for Life – Professor Fabrice Lumineau
13 Oct 2021
To seek truth from facts is the nature of Professor Fabrice Lumineau, and to create knowledge for the betterment and progression of the business world is his aspiration as a scholar. In order to pursue new heights in his career, our French savant has officially joined us at May 2021 as a Professor in Management and Strategy.
A serendipity in life: Being a scholar
"Throughout my academic journey, I have been blessed with the opportunity to be inspired by astute scholars and mentors. Under their influence, my passion for research started during my Master years in 2003. I then decided to pursue a PhD to become a scholar," said Professor Lumineau. He believes that developing an expertise in a specific field and use it to explore new issues for managers and organisation is a very meaningful career. He said, "The idea of passing down new knowledge to the young generation is also very noble."
Professor Lumineau is a strategic management scholar. He investigates how firms develop a sustainable comparative advantage over their competitors, mitigate risk, and make strategic decisions. Scholars will also co-develop scientific models with practitioners to provide the market with theoretical guidance. Out of the many topics this discipline encompasses, Professor Lumineau is particularly interested in issues of governance. He seeks to understand how organisations develop and adjust their collaboration mechanisms. Equipped with sharp business instincts, Professor Lumineau has contributed a myriad of high quality papers for the academia and has become no stranger to rewards and honours since 2003. He was offered the Conflict Management Division's Most Influential Article Award by the Academy of Management in 2019; selected as one of the 40 Under 40 Most Outstanding Business School Professors by Poets & Quants in 2017; and won the Best Paper Award in the Journal of Strategic Contracting and Negotiation in 2016.
A bright overview of Blockchain in corporate governance
Over the years, Professor Lumineau has produced a lot of papers covering issues faced by different companies. A recent paper of him, studies how adjustments in formal and informal governance mechanism can save a business alliance against the backdrop of disruption brought by internal re-organisation within the larger, more established partner. However, in 2020 Professor Lumineau had decided to do something new, and look at how disruptive technologies impact governance.
"Blockchain is not just about Bitcoin. It enables business parties to share and keep an identical list of traceable and immutable transaction records. This technology has made market decentralisation possible, and I would like to study more on its impact on governance and management," said Professor Lumineau.
Other than facilitating business cooperation by providing trading parties with a high degree of transparency, Professor Lumineau also posits that blockchain can facilitate collaboration in a multitude of ways, "For example, a food supply blockchain from Walmart can help identify misinformation in pricing quickly. The TradeLens blockchain led by Maersk and IBM enables nearly real-time data sharing and realises data reconciliation across the network in a decentralized way" said Professor Lumineau. He further adds on that the Blockchain technology has become so advanced, that it can execute organisational routines, "the distributed venture capital fund called The DAO was instantiated on a Blockchain and had neither people in a formal manager role nor a physical address. Investors voted on project proposals by using tokens, and eventually payout to investors were determined and executed based on their votes and the subsequent performance of the projects as measured by the prescribed smart contracts."
Professor Lumineau suggests that blockchain governance may reduce searching, monitoring, and enforcement costs, but tends to imply relatively higher designing costs. He believes that there are 5Ws and 1H that future scholars could explore in the realm of Blockchain in management studies in the future:
What – To learn more about the nature of Blockchain
Who – To study which party is most benefited with the use of Blockchain
Why – To study the early adoption and diffusion patterns of Blockchain
When – To study the best timing to introduce this technology to a company
Where – To study what encourages some communities to favour or to oppose Blockchain
How – To study how the use of Blockchain influence the performance of collaborations
The dedicated educator
In addition to his research work, Professor Lumineau is also a dedicated teacher. He has received teaching awards almost 30 times throughout his career. He is going to teach in our EMBA-Global Asia programme and other PhD courses at fall; in 2022 spring, he will be teaching strategic management courses in both MBA and Undergraduate level.
Professor Lumineau had once came to HKU as a visiting scholar. He was impressed by the high level research our scholars have produced, and more so by the hardworking attitude of HKU students. He looks forward to teaching soon, and engage in exciting knowledge exchange with the young generation.