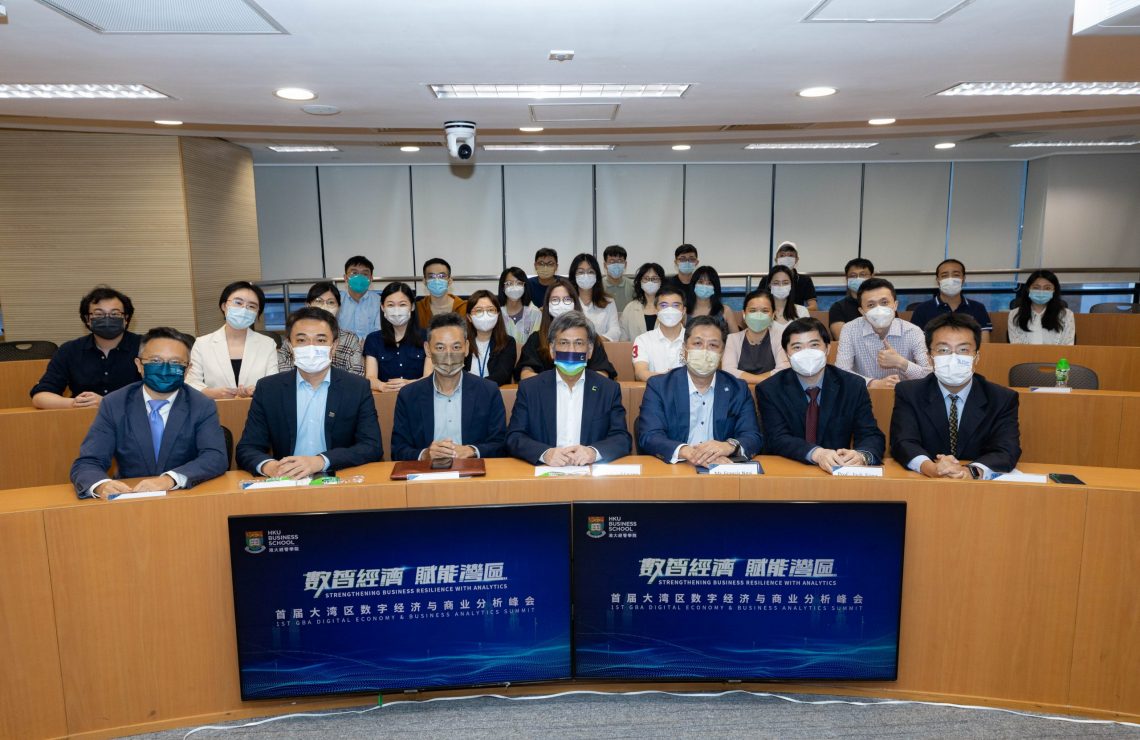 School news
HKU Business School successfully holds first Greater Bay Area Digital Economy and Business Analytics Summit
7 Jul 2022
On June 25, 2022, HKU Business School successfully held the first Greater Bay Area Digital Economy and Business Analytics Summit, with the theme "Digital Intelligence Economy, Empowering the Greater Bay Area". The Summit connected representatives from Shenzhen and Hong Kong, and the whole event was broadcast live online. More than 400 people registered for the Summit and over 4,000 watched the live broadcast.
The Summit brought together professors and scholars from HKU as well as industry experts and business representatives from the research fields of business analytics, data science, digital economy and information management to discuss hot topics on developing the digital economy era. The Summit also provided valuable opportunities for students from HKU's Master of Science in Business Analytics programme to present their research outcomes and project collaborations with business partners.
At the main venue in Shenzhen, Professor Haipeng Shen, Associate Dean of Executive Education at HKU Business School, delivered welcome remarks online for the morning session. As a special guest, Mr. Jiang Zhu, Deputy District Mayor of the Futian District People's Government of Shenzhen, gave the Summit's opening speech online.
Mr. Guohong Liu, Assistant Dean of China Development Institute, was invited to discuss the development of the Greater Bay Area's digital economy from the perspective of Shenzhen's rise in high-tech industries.
Mr. Kunlei Dong, General Manager at China Resources Digital Ltd., Dean of the Research Institute for the Digital Development of Chinese Central SOE, and Chairman of the GBA Collaborative Innovation Union for the Chinese Central SOE was invited to make a speech. He discussed building a digital ecosystem together with Hong Kong researchers and businesses to empower the industrial transformation of the Greater Bay Area.
Dr. Wei Zhang, Associate Professor and Associate Director of Institute of Digital Economy and Innovation at HKU Business School, gave a lecture on the human-data-algorithm triangle and managerial problems in the digital economy age.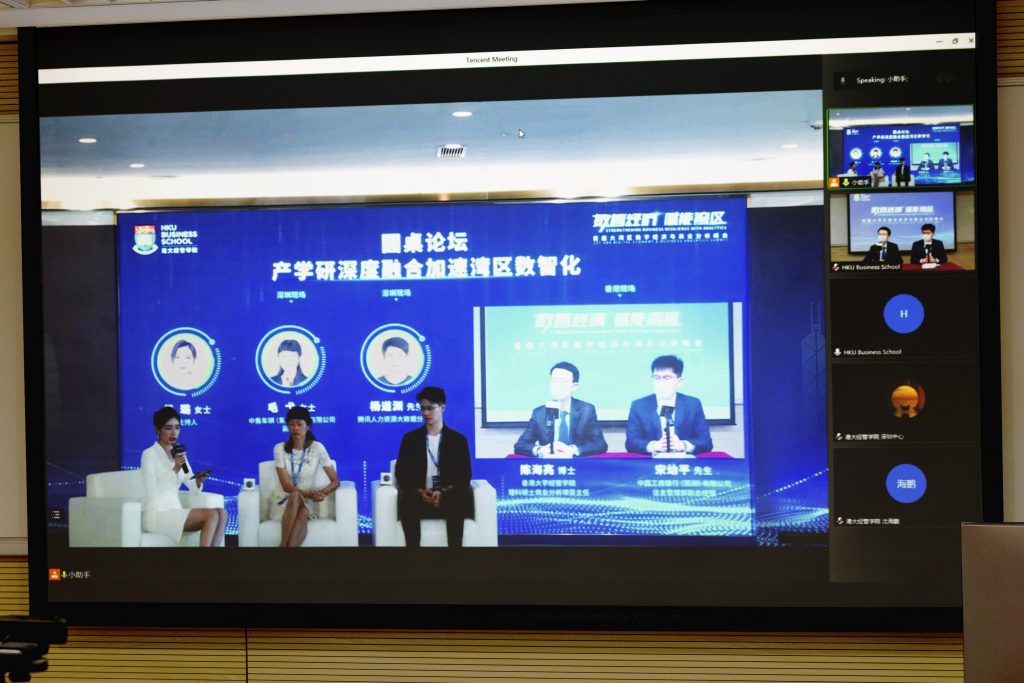 Four members of the panel on "Enhancing Industry-University-Research Collaboration on Data, Analytics, and Intelligence" included (in alphabetical order):
Hailiang Chen, Associate Professor, HKU Business School, MSc(BA) Director
Yi Mao, Vice President, China International Marine Containers (Group) Company Ltd.
Youping Song, Deputy Head of Management Information Department, Industrial and Commercial Bank of China (Asia) Ltd.
Daoyuan Yang, People Analytics Analyst, Human Technology Center, Tencent
Professor Yulin Fang, Director of Institute of Digital Economy and Innovation of HKU Business School, delivered welcome remarks for the afternoon session at the Hong Kong main venue.
Mr. Herman Lam, Managing Director of Cisco Systems (HK) Ltd., shared his insights on digital transformation opportunities in the Greater Bay Area. He encouraged HKU students to take up the important task of bridging the East and West cultures in developing these opportunities.
Mr. Michael Leung, Board of Directors of HK Cyberport Management Company Ltd., gave a talk on analytics-driven "know-your-customer" (KYC) processes in the banking industry. He elaborated on how the banking industry uses data analytics to drive customer management.
Mr. Francis Ngai, Honorary Secretary and Vice President of Industry Relations of Hong Kong Computer Society, talked about digital transformation in the Greater Bay Area and the need for analytics services. He introduced the positioning of the Greater Bay Area in the 14th Five-Year Plan and its main economic indicators and industries.
Four teams of students from HKU Business School's MSc(BA) programme presented results of their Big Data-based business analytics projects, Industry 4.0, FinTech, Financial Market Analysis, and Social Media Marketing, done in collaboration with corporate sponsors. In conducting a wide range of industry-academia business analytics projects each year, graduates are given an excellent platform for corporate practice and help corporate partners make effective decisions with digital intelligence, thus achieving a win-win situation for both industry and academia.
Please click below for more information about the four student teams and their projects:
Topic: Monocrystalline intelligent manufacturing
Supervised by: Prof. Haipeng Shen
Corporate Partner: Raipiot (Yunan Yuzhe)
Topic: Discover slippage with on-chain data
Supervised by: Dr. Hailiang Chen
Corporate Partner: Blockpour
Topic: Equity index basis prediction and mutual fund performance evaluation
Supervised by: Dr. Weichen Wang
Corporate Partner: Beijing Prism Private Fund Management Co. Ltd.
Topic: Predicting successful sales leads
Supervised by: Dr. Qingchen Wang
Corporate Partner: CoPilot AI
Closing remarks were made by Professor Haipeng Shen, Associate Dean (Executive Education) of HKU Business School. He commended the Summit as an outstanding example of Hong Kong-Shenzhen cooperation and linkage, and noted that the morning session being conducted in Putonghua and afternoon session in English made the event accessible to diverse viewers. He looked forward to more opportunities to bring the promising synergy of Hong Kong and Shenzhen together in the future to promote the ongoing development of the Greater Bay Area.