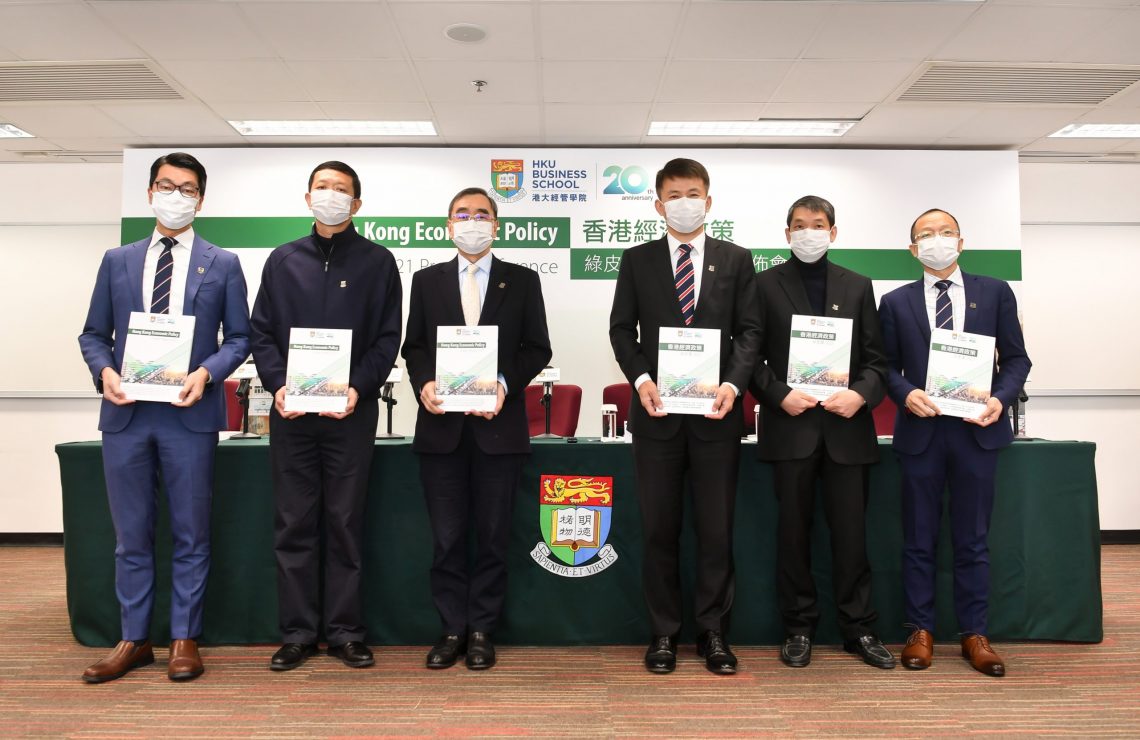 Press Release
HKU Business School publishes "Hong Kong Economic Policy Green Paper" to strengthen community involvement in Hong Kong's economic policy reform
15 Jan 2021
Amidst the challenges brought forth by the rapidly changing global economy and the emergence of new technologies, Hong Kong's economy has faced unprecedented downward pressure in the past year.  A timely review on traditional economic policies is important to revitalise Hong Kong's economy.  HKU Business School and Hong Kong Institute of Economics and Business Strategy (HIEBS) jointly announced today the "Hong Kong Economic Policy Green Paper", suggesting new initiatives on four major areas of Hong Kong's economic policy, including Economy & Industry, Human Capital Development, Regulation and Housing, with an aim of strengthening community involvement, encouraging discussion on Hong Kong economic policy reform, and contributing to Hong Kong's economic development in the coming five to ten years.
Professor Richard Wong, Provost and Deputy Vice-Chancellor of The University of Hong Kong, Chair of Economics & Philip Wong Kennedy Wong Professor in Political Economy, and Director of Hong Kong Institute of Economics and Business Strategy said, 'Hong Kong's economy suffers a double whammy of pandemic and growing tension in US-China relationship.  Along with those long unaddressed problems related to Hong Kong's economic policies, it is no longer efficient to rely on a laissez-faire approach in response to a rapidly changing economic environment.  It is the time for the Government to take bold steps and initiate innovative policy reform in order to seek a way out of the current economic dilemma. HKU Business School therefore convened its expertise in economic policy analysis and launched the Green Paper on Hong Kong's Economic Policy for the first time, rekindling discussion on critical matters related to Hong Kong's economy in the years ahead."
Professor Hongbin Cai, Dean of HKU Business School concurred that 'HKU Business School has always been committing to apply our analytical skills and expertise to address economic policy issues facing Hong Kong, and thereby making impact and contribution to the society in a positive way. Entering its 20th anniversary, HKU Business School utilizes its edge on economic policy research and prepares a collection of papers on Hong Kong economic policies, with an intention to offer recommendations on policy reform from a new perspective. The School will continue our role in proactively promoting economic policy research and organising different activities, such as the Thought Leadership Conference focusing on the future of Hong Kong's economy to be held in May, for key stakeholders from political, business and education sectors to share views on both short-term and long-term issues of Hong Kong.'
Prepared by 11 professors from HKU Business School, the "Hong Kong Economic Policy Green Paper" focuses on the analysis and reform recommendations on policies in different areas, ranging from Economy & Industry, Human Capital Development, Fiscal Stance, to Regulation, Public Annuity and Housing. Key analysis of certain areas are as follows:
Economy and Industry
The third economic transformation is critical and timely in addressing the slowdown in economic growth. Increasing the investments in research and development, alleviating the shortage of talent, and reindustrialising the economic structure are the three major strategies to create a knowledge-based economy focusing on technology and research & development.
Given the declining role of Hong Kong as the trade intermediary for Mainland China, Hong Kong should re-position itself as a centre of technological innovations in the Greater Bay Area by substantially increasing the government expenditure on research & development, attracting global talents in the short run and nurturing home-grown talents in the longer run.
Human Capital Development
Launching a "Double Human-capital Investment Scheme" within 5 years to increase the funding on higher education, i.e. to raise the GDP share of public expenditure on education to 5%, increase the number of UGC-funded places, boost the GDP share of public expenditure on research & development to 2%, and to set up a "Senior Research Talent Scheme" and an "Education Loan Scheme".
Fiscal Stance
With the analysis on Hong Kong's fiscal stance, tax policy reforms that underpins the operations of the domestic property market sector is recommended for a more stabilised source of fiscal revenue in the long run.
Regulation
In response to the emergence of new services and technologies (using Uber and overseas doctors as examples), government is suggested introducing short-term measures while formulating new and long-term regulations, in parallel with deregulation. New measures could be tested in specific situation by stages, through a sandbox approach, to facilitate policy review and implementation.
Public Annuity
Analysis on the public annuity programme in Hong Kong and comparison with similar programmes launched in other economies has been conducted. The paper suggests maintaining the simplicity of public annuity products, improving transparency while complementing the products with other retirement income protection system, as well as introducing education and promotion programs and encouraging public annuity participation.
Housing
For public housing, connection between the public housing market with the private one could be re-activated through the privatizing public rental housing and establishing two-tier market for Tenant Purchase Scheme (TPS) and Home Ownership Scheme (HOS), with further possibility in unifying the TPS/HOS secondary market and the open market. Calculation of the land premium method should also be reformed.
For private housing, evaluation on the effectiveness of the existing stamp duty and permanent property tax should be conducted. The abolition of stamp duty could be explored and replaced by recurrent property taxation (e.g., rates). Also, increasing the rates of residential properties to 15% and granting homestead exemption to Hong Kong permanent residents could effectively control the property price.
Being the project coordinator, Professor Wing Suen, Chair of Economics & Henry G Leong Professor in Economics of HKU Business School, believed that 'The Green Paper is just a step forward in the process of Hong Kong economic policy research.  Instead of offering an ultimate solution to the current economic dilemma, the paper serves to stimulate discussion and debate in the community.  It will also be submitted to the government for consideration, in the hope of triggering further study and forming a baseline for policy reform.'
Full version of Green Paper can be accessed here.