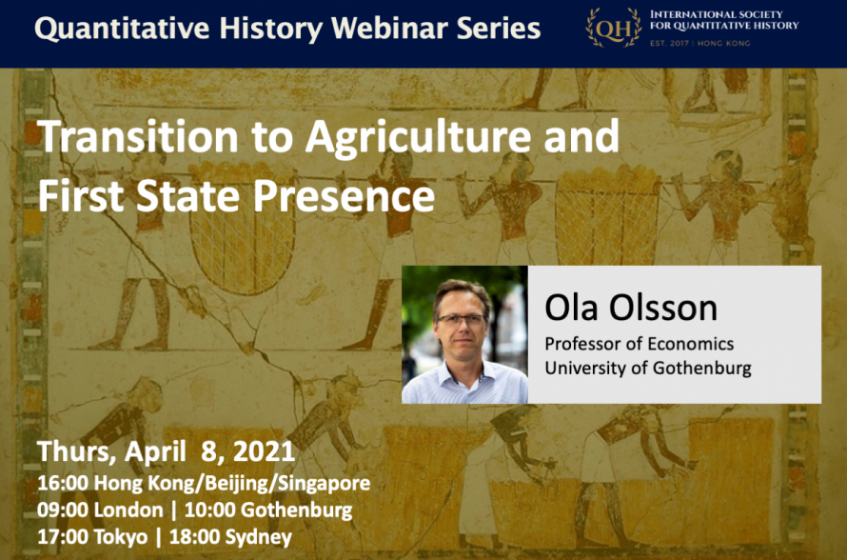 8

Apr
Economics, Seminar Calendar
Transition to Agriculture and First State Presence
8 Apr 2021 | 16:00 - 17:30
Zoom Webinar
INFORMATION
Transition to Agriculture and First State Presence
It has often been observed that the emergence of states in a region is typically preceded by an earlier transition to agricultural production. Using new data on the date offirst state emergence within contemporary countries, Ola Olsson and his co-authors present a global scale analysis of the chronological relationship between the transition to agriculture and the subsequent emergence of states. They find statistically significant relationships between early reliance on agriculture and state age in all sub-samples. In this Quantitative History Webinar, Ola Olsson of University of Gothenburg will explore how their findings show that this relationship is not markedly different in cases where states were imposed from outside or when they emerged through internal origination.
Ola's co-authors: Oana Borcan (University of East Anglia) and Louis Putterman (Brown University)
Live on Zoom on April 8, 2021
16:00 Hong Kong/Beijing/Singapore
09:00 London | 10:00 Gothenburg
17:00 Tokyo | 18:00 Sydney
Calculate your local time
About the Quantitative History Webinar Series
The Quantitative History Webinar Series, convened by Professor Zhiwu Chen and Dr. Chicheng Ma of The University of Hong Kong (HKU), aims to provide researchers, teachers and students with an online intellectual platform to keep up to date with the latest research in the field, promoting the dissemination of research findings and interdisciplinary use of quantitative methods in historical research. The Series is co-organized by the International Society for Quantitative History, HKU Business School, and the Asia Global Institute (AGI).
Conveners:
Professor Zhiwu Chen
Dr. Chicheng Ma