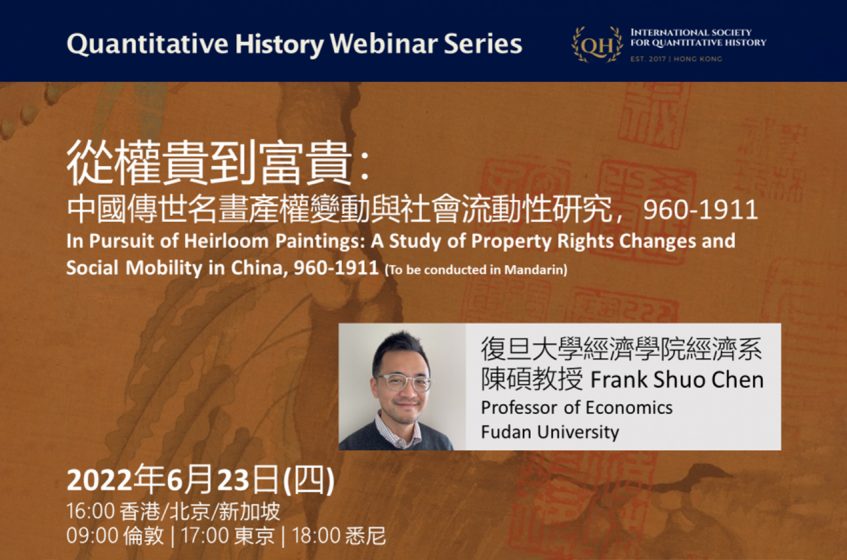 23

Jun
Economics, Seminar Calendar
In Pursuit of Heirloom Paintings: A Study of Property Rights Changes and Social Mobility in China, 960-1911
23 Jun 2022 | 16:00 - 17:30
Zoom Webinar
INFORMATION
In Pursuit of Heirloom Paintings: A Study of Property Rights Changes and Social Mobility in China, 960-1911
In Pursuit of Heirloom Paintings: A Study of Property Rights Changes and Social Mobility in China, 960-1911 (Webinar in Mandarin)
Frank Shuo Chen of the Fudan School of Economics and his co-author have manually constructed the luxury art ownership trajectory data from 960 to 1911 by tracing changes in ownership of 3,141 famous Chinese paintings based on 10,336 seals together with personal information about the collectors to whom they belonged. The trajectories show that the social class of these art collectors continued to decline throughout the same dynasty, a trend that was particularly evident in the Ming and Qing dynasties. On average, art collectors were officials in the higher-ranking category at the beginning of a certain dynasty than later. They also find that dynastic transitions marked the onset of the downward trend in art collectors' social status.
In this Quantitative History Webinar, Frank Shuo Chen will explain how to verify the correlation between the abovementioned downward trend and social mobility in pre-modern China based on provincial panel data from 1368 to 1911: this downward shift in the social status of collectors was more pronounced in regions with greater social mobility. The purpose of this webinar is twofold. First, it increases understanding of the composition of elite households in pre-modern China. Second, it explores social mobility during the same period from a new perspective on the transfer of high-end art ownership.
Frank's co-author: Yanfei Yin (Nanjing University)
Discussants: Weipeng Yuan (Shanghai Jiao Tong University) and Yan Yun (Chinese Academy of Social Sciences)
Live on Zoom on June 23, 2022
16:00 Hong Kong/Beijing/Singapore
09:00 London | 17:00 Tokyo | 18:00 Sydney
Calculate your local time
About the Quantitative History Webinar Series
The Quantitative History Webinar Series, convened by Professor Zhiwu Chen and Dr. Chicheng Ma of The University of Hong Kong (HKU), aims to provide researchers, teachers and students with an online intellectual platform to keep up to date with the latest research in the field, promoting the dissemination of research findings and interdisciplinary use of quantitative methods in historical research. The Series is co-organized by the International Society for Quantitative History, HKU Business School, and the Asia Global Institute (AGI).
Conveners:
Professor Zhiwu Chen
Dr. Chicheng Ma