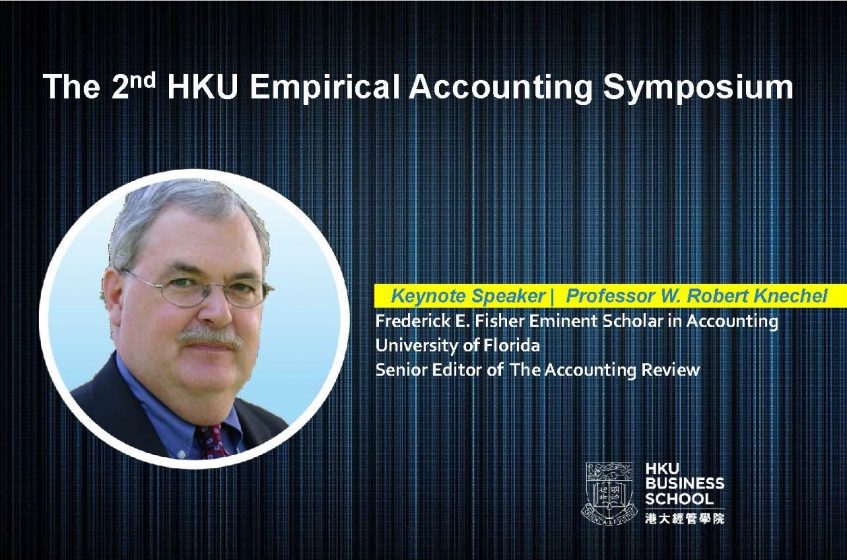 5

Aug
The Second HKU Empirical Accounting Symposium (Virtual)
5, 6, 17, 19, 20 August 2021 | 8:30 a.m. - 10:30 a.m. | 7:30 p.m. - 10:30 p.m.
Online
About the Speaker 
Professor W. Robert Knechel is a prominent scholar in the field of accounting. He currently holds the University of Florida Research Foundation Professor and the Frederick E. Fisher Eminent Scholar in Accounting in the Fisher School of Accounting, Warrington College of Business at the University of Florida. He is the senior editor (chief editor) of The Accounting Review, one of the most prestigious accounting journals.
He has previously served as the Senior Editor of Auditing: A Journal of Practice & Theory. He is the Director of the International Accounting and Auditing Center in the Fisher School of Accounting. He previously has held partial appointments at Maastricht University and the University of Amsterdam in the Netherlands. He currently serves on the Standing Advisory Group (SAG) of the PCAOB and is a member of the Board of Directors of the Foundation for Audit Research in the Netherlands.
Professor Knechel is a leading scholar in auditing. He received the Auditing Section's Outstanding Educator Award in 2015. He has also received the award for the Best Paper Published in Auditing: A Journal of Practice & Theory in 2016 and was the recipient of the Auditing Section's Notable Contribution in the Auditing Literature Award in 2017. Professor Knechel has been active in the American Accounting Association, especially the Auditing Section. He served as the Chairman of the Auditing Section. During his tenure, the Auditing Section initiated the first of its annual midyear meetings. He also served as Vice-Chairman and Director of Education of the Auditing Section at different times.
Program
Aug 5 (Thu) 08:30-10:30 AM | Keynote Speech: Economics of Auditing and Future of Audit Research
Aug 6 (Fri) 07:30-10:30 PM   | Accounting Ph.D. Workshop I
Aug 20 (Fri) 07:30-10:30 PM | Accounting Ph.D. Workshop II