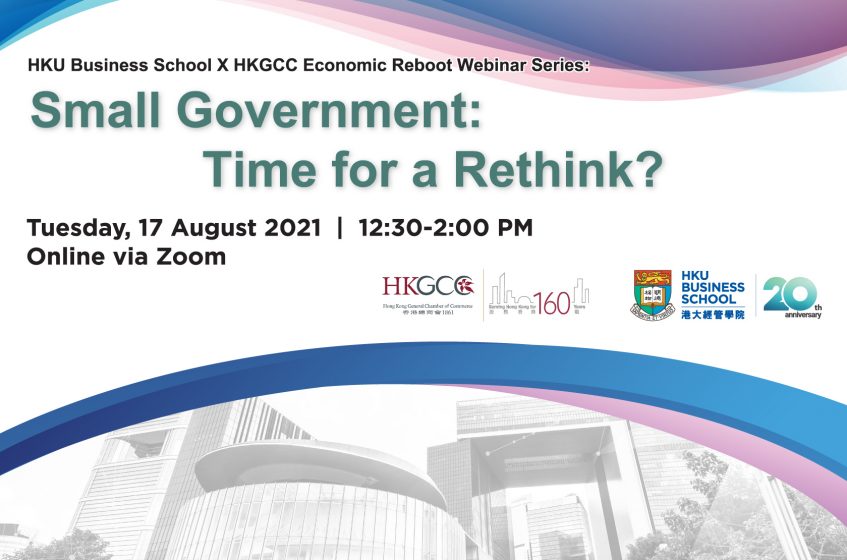 17

Aug
Finance, Seminar Calendar
HKU Business School x HKGCC Economic Reboot Webinar Series – Small Government: Time for a Rethink?
17 Aug 2021 | 12:30-14:00
Zoom webinar
Date: Tuesday, 17 August 2021
Time: 12:30-2:00 pm (HKT/GMT+8)
Format: Online via Zoom
Language: English
Enquiries: fbecomm@hku.hk
Fee: HKGCC member HKD $100 /non-member HKD$200 / HKU students, staff and alumni Free of charge
Registration Deadline: 13 August, 2021 10:00am
Standing proudly next to our 20th anniversary milestone, HKU Business School shall accelerate its steadfast footsteps and strive to become the thought leader of the Hong Kong society. Earlier this year, we had gathered our academic intellect to publish the "Hong Kong Economic Policy Green Paper 2021" to inspire policy makers on strategising new ways of breakthrough; Later in May, we had organised the first of our Thought Leadership Conference Series — the "Future of Hong Kong Economy" Conference, to solicit insights from local business and political elites. In the second half of 2021, starting from July, we join hands with The Hong Kong General Chamber of Commerce (HKGCC) to launch a series of webinars to further discuss some of the more pressing issues faced in Hong Kong. Forthcoming topics include the role and size of government, brain drain, social inequality and ageing population, and bolstering public finance.
Against the backdrop of unequal wealth distribution and environmental damage, the second session will review the "small-government, big market" ideology of the Hong Kong government. The session will also look at ways to restore public trust and a sense of justice, via regulations and state intervention.
Interested HKU students, staff and alumni, can join us on August 17, for a lively webinar chaired by Professor Zhiwu Chen, Chair Professor of Finance at HKU Business School and Mr. Nick Sallnow-Smith, Former Chairman of the Lion Rock Institute Hong Kong. They will share their thoughts on the way forward for Hong Kong if it were to remain relevant and competitive in a post-covid landscape. All sessions in the series will be moderated by Mr. Tony Miller, Chairman of the Chamber's Economic Policy Committee.
Speakers' bios
In addition to his capacity as Chair Professor of Finance at HKU Business School, Professor Chen is Director of the Asia Global Institute and Victor and William Fung Professor in Economics at the University of Hong Kong. His research covers finance theory, the sociology of finance, economic history, quantitative history, emerging markets, as well as China's economy and capital markets.
Mr. Nick Sallnow-Smith has lived in Hong Kong for nearly 30 years. He worked as a teacher then a civil servant in the United Kingdom, and since coming to Hong Kong, he has worked in many types of organizations including government, private sector listed companies, banks, and a range of NGOs.