School news
HKU Business School Scholars Participated in Federation of Hong Kong Industries' "Made by Hong Kong – The Way Forward for HK Industries" Research Aims to Contribute to Hong Kong's Industry Development
21 Jul 2021
Event Recap:

HKU Business School has been focusing on economic policy research over the years and is committed to becoming a powerhouse of research and expertise hub on economic and business trend, Fintech and AI and regional finance, so as to contribute to the local, regional and global economy. Our scholars have participated in the Federation of Hong Kong Industries' (FHKI) "Made by Hong Kong – The Way Forward for Hong Kong Industries" Research, with an aim of reviewing Hong Kong-invested manufacturers' current operations and business strategies in local and global contexts.
The research, which is also a project in celebration of FHKI's 60th Anniversary, is funded by the Trade and Industrial Organisation Support Fund under the Trade and Industry Department of the HKSAR Government, and conducted by the research team from the Hong Kong Centre for Economic Research under HKU Business School.
In July 2021, FHKI organised the "Made by Hong Kong – The Way Forward for Hong Kong Industries" Research Report Presentation and Knowledge Exchange Forum. At the Forum, representatives of FHKI presented major research findings and policy recommendations for the future industrial development of Hong Kong. Speakers from the industry and academia were invited to share their expert views on Hong Kong's industrial policies and the development pathways for Hong Kong-invested manufacturers.
Mr. Paul Chan, the Financial Secretary of the HKSAR Government, stated in his opening remarks, "The Research revealed that many Hong Kong manufacturers deployed the 'China-Plus-One' by setting up new production lines in ASEAN economies to cope with trading challenges arising from international political dynamics. This strategy demonstrates the vision and agility of Hong Kong manufacturers and reflects that Government supportive measures align with market needs. The Research conducted by FHKI brings together invaluable insights from trade associations, scholars and enterprises, providing useful references for the Government to formulate up-and-coming industrial policies."
Professor Richard Wong, Provost and Deputy Vice-Chancellor of The University of Hong Kong, Chair of Economics & Philip Wong Kennedy Wong Professor in Political Economy, and Director of Hong Kong Institute of Economics and Business Strategy shared his views on the transformation of Hong Kong's industrial structure at the event. He said, 'The technological advancement, well-established system, intellectual property, trade contracts, fair trials and appropriate market supervision are essential for the globalisation of the supply chain. Apart from investing in the hardware facilities, Hong Kong should build up more intangible assets such as knowledge, innovative researches and human capital, reform the current land and human resources policies and promote the industrial transformation for repositioning Hong Kong. I believe the brand of "Hong Kong" is still enjoying a comparative advantage and it contains sufficient conditions to perform "Re-industrialisation". It is now the opportune time for Hong Kong manufacturers to capitalise on the opportunities brought forth by industrial transformation and develop innovation-driven industries in the Greater Bay Area and nearby regions.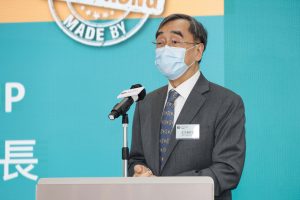 Photo Caption: Professor Richard Wong sharing his views on the transformation of Hong Kong's industrial structure.
In addition, Professor Tao Zhigang, Director, Institute for China and Global Development and HSBC Professor in Global Economy and Business Strategy, HKU Business School, together with three outstanding industry representatives, including Mr. Chang Ka-mun, Managing Director of Fung Business Intelligence Centre; Mr. Stephen Wong, Senior Vice President and Executive Director of Public Policy Institute of Our Hong Kong Foundation; and Mr. Stanley Tsui, Group Chief Operating Officer of ASM Pacific Technology Limited, had an intellectual discussion on the future development pathways of and policy facilitation for Hong Kong's manufacturing sector, with regard to national industrial strategy, regional advancement, nurturing of local talent pool and status of advanced manufacturing sectors.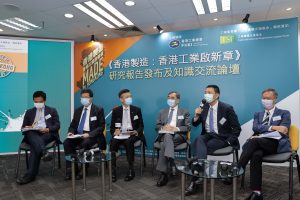 Photo Caption: Scholars and industry leaders gathered to discuss the future development of Hong Kong's manufacturing sector.
According to the Research, ever since Hong Kong manufacturers moved northward in the 1980s, the production activities of Hong Kong-invested manufacturers in the Mainland have driven the demand of local producer services, shifting Hong Kong towards a service industry-oriented economy. It is estimated that in 2019, Hong Kong-invested manufacturers generated HK$680.1 billion worth of profit in the Mainland China, equivalent to nearly one-fourth (23.7%) of Hong Kong's GDP. If the service industry is split into sub-categories, producer services in Hong Kong is on a continuous rise to reach 42.2% of GDP in 2019, which provides evidence for the economic contribution of offshore manufacturing activities to Hong Kong.
Based on the current conditions and business strategies of Hong Kong-invested manufacturers and global trends, FHKI summarised three major advocacies to the Government for formulating specific and long-term industrial policy with Hong Kong's advantages and industrial foundation to create more diverse economy and employment in Hong Kong. They are: 1) Developing local "re-industrialisation" of selected industries to build core technological competence, 2) Strengthening Producer Services to Become the Hub of Regional Manufacturing Development and 3) Review Economic Data to Reflect Industrial Development.
Dr. Daniel Yip, Chairman of FHKI, said "Under the transformation in manufacturing activities and Hong Kong's shift towards producer services, the traditionally 'Made in Hong Kong', which represents products manufacturers locally, should now be more broadly understood as 'Made by Hong Kong' covering diverse products that are researched and developed, designed and produced by Hong Kong-invested manufacturers with the intellectual and quality excellence originated from Hong Kong. We hope that the Government will look into how Hong Kong industries can reach new heights riding on the booming development in Asia and advancement of manufacturing sector, especially through the 're-industrialisation' of selected industries to groom core technology and talents, as well as sustaining the growth of 'Made by Hong Kong'."
Research Full Report (Chinese only):
https://fhki.s3.ap-east-1.amazonaws.com/assets/news/MBHK%20final%20report.pdf