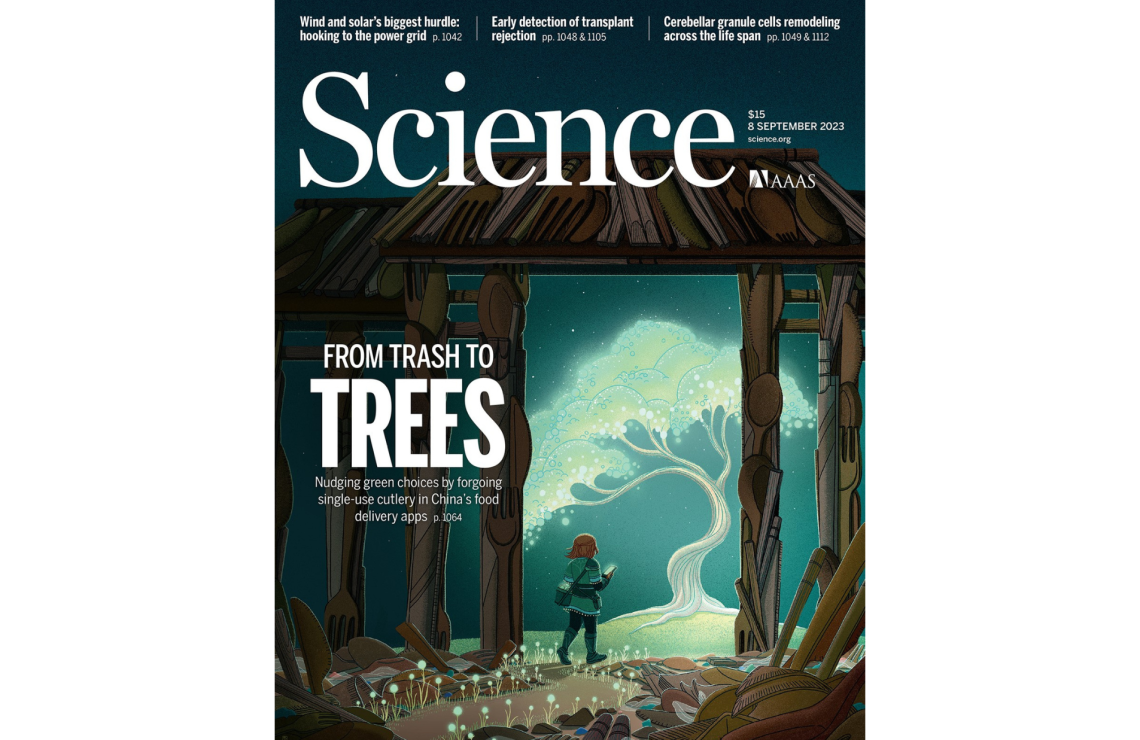 Press Release
HKU Business School's research shows that green nudges bring nontrivial aggregate environmental benefits
8 Sep 2023
Plastic waste is a global threat that endangers marine and freshwater ecosystems. In 2021, more than 400 million metric tons of plastic waste were produced worldwide. More recently, as food-delivery services became increasingly popular during COVID-19 pandemic, the surge in plastic waste generated by single-use cutlery (SUC) has become a key environmental challenge faced by many countries.
Science, an internationally renowned academic journal, recently featured a research titled 'Reducing single-use cutlery with green nudges: Evidence from China's food-delivery industry' as cover article. The research is led by Dr Guojun He, Associate Professor in Economics and Management & Strategy of HKU Business School, other co-authors include Dr Yuhang Pan, Assistant Professor of Peking University; Professor Albert Park, Chief Economist of Asian Development Bank and Professor of HKUST Business School; Professor Yasuyuki Sawada of Tokyo University and Ms Elaine S. Tan from Asian Development Bank. The article examines the effectiveness of green nudges in increasing the share of no-cutlery orders.
Dr Guojun He, the first and corresponding author of the research, said, 'Nudges can be a powerful tool to change behaviours. Using data from China, we show in this work that green nudges can significantly reduce plastic waste generated by the food-delivery industry. The change in default setting to "no cutlery" and to reward consumers with Ant Forest Green Points on Alibaba's food-delivery platform (See Picture 1) increased the share of no-cutlery orders by 648%, and the effect persisted. If green nudges were applied to all of China, more than 21.75 billion sets of SUC would be saved annually—equivalent to eliminating 3.26 million metric tons of plastic waste and save 5.44 million trees. The aggregate environmental benefits are nontrivial.'
Methodology
Data has been obtained from Eleme, Alibaba's food ordering and delivery platform. It included 197,062 randomly selected users' monthly food-ordering history, their green-points history, their tree-planting records, and their personal characteristics from 1 January 2019 to 31 December 2021 in 10 major Chinese cities. All of the consumers in the sample set placed at least one food delivery order during the research period.
In order to comply with the new environmental regulations in the cities, Alibaba changed its app in the following ways: (i) by adding a pop-up window that required customers to explicitly choose the number of SUC sets with their orders, (ii) by setting the default for this pop-up window to be "no cutlery," and (iii) by providing a small nonpecuniary incentive – Green Points.
Key Findings
1. Green nudges increased the no-cutlery orders
Before the introduction of the green nudges, the control and treated cities followed essentially the same trends. Immediately after the introduction of green nudges, however, the share of no-cutlery orders in the treated cities significantly increased. On average, the green nudges increased an individual's share of no-cutlery orders by 20.1 percentage points, representing a 648% surge from the 3.1 percentage points prior to the treatment.
2. Green nudges did not harm business performance
Both the total order amount and the total number of orders followed the same trend in the control and treated cities during the research period. The impact of green nudges on the platform's business performance is negligible and statically nonsignificant. It has addressed the concern that some customers might dislike the new choice architecture and became less likely to use the Alibaba platform for food deliveries.
3. Certain subpopulations responded more to the green nudges
No-cutlery orders of women increased by 21.4 percentage points after the nudges were introduced compared with 18.4 percentage points increase for men. For the middle-aged and elderly, the increased share of no-cutlery orders hit 30 to 34 percentage points, while ages of 18 and 24 only increased by 11.9 percentage points. Frequent users (i.e. those that rarely cooked) responded less often to the green nudges than infrequent users. When measured by cell phone value and meal price, it showed that more-affluent individuals were more responsive to the green nudges.
Recommendation
1. Other online food-delivery platforms, such as DoorDash and Uber Eats, can try green nudges to reduce global plastic waste
As green nudges did not negatively affect Alibaba's business and the environmental benefits were tremendous, it is thus recommended that other online food-delivery platforms, such as DoorDash and Uber Eats, can try similar green nudges to reduce global plastic waste.
2. Private sector and platform companies can play a powerful role in promoting prosocial behaviours among their customers
Private sector and platform companies can better align between their corporate social responsibilities and eco-friendly initiatives, which could bring about far-reaching impacts to the planet.