Press Release
HKU Business School publishes the "Hong Kong Economic Policy Green Paper 2022", joining hands to offer recommendations on Hong Kong's economic development
23 Sep 2022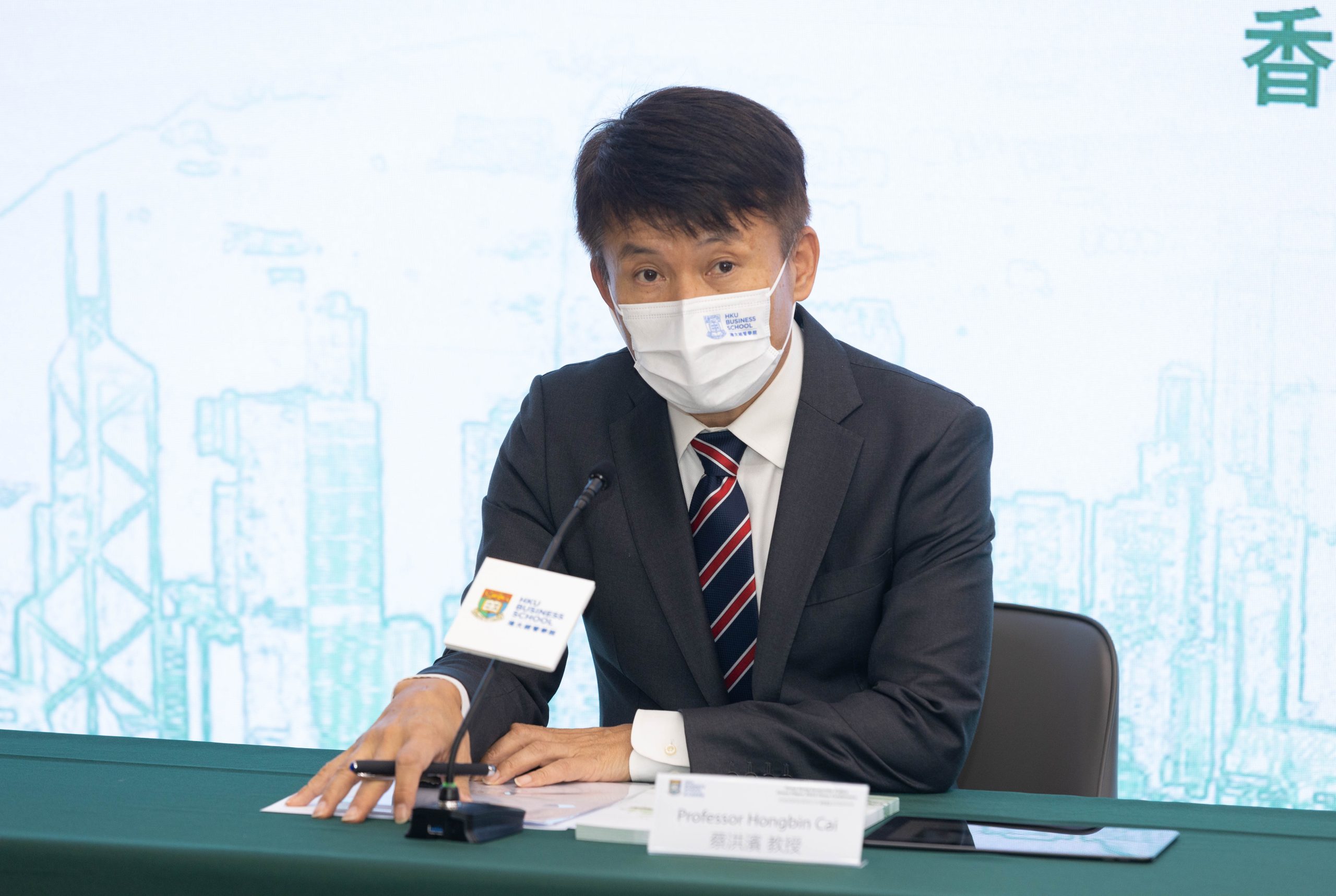 HKU Business School today announced the "Hong Kong Economic Policy Green Paper 2022" (Green Paper 2022). The Green Paper aims to analyse the key areas of Hong Kong's economic policy and find new insights into enhancing Hong Kong's economic development. Professor Hongbin Cai, Dean and Chair of Economics of HKU Business School said, "Hong Kong's economy is facing severe challenges. Apart from the external environment, effective regulatory policies and continued striving for development are the keys to getting out of this predicament. HKU Business School has been committed to analysing Hong Kong's economic environment and policy issues through professional knowledge and distinguished research. Our faculty members in a collective effort have recently published the Green Paper 2022, after its inaugural edition last year. We hope that it will foster fruitful discussions and follow-up research, as well as shed light on Hong Kong's future development."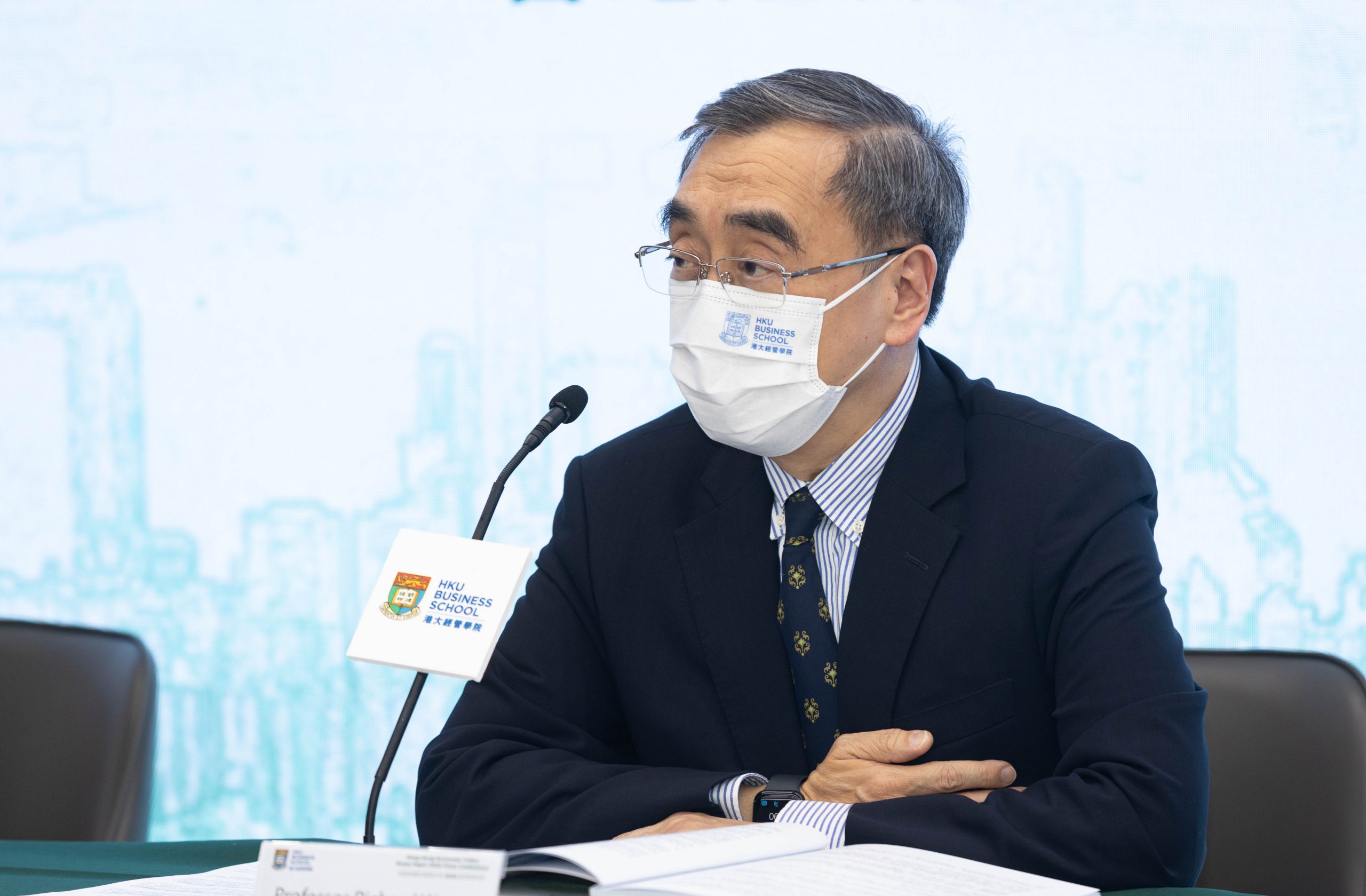 Professor Richard Wong, Provost and Deputy Vice-Chancellor of The University of Hong Kong, Chair of Economics & Philip Wong Kennedy Wong Professor in Political Economy, and Director of Hong Kong Institute of Economics and Business Strategy stated, "Ensuring standards, supporting innovation, invention, discovery and creativity have historical relevance in a world economy where hyper-globalisation has peaked and the threat of geopolitical and ideological contests post-Cold War is rearing its head again. It works to Hong Kong's economic advantage as the city's key competitiveness lies in human capital, professional services, integrity standards, intangible capital advantages, and a sound legal framework. Hong Kong should be prepared to expand the base of its knowledge workers by attracting overseas talent and investing in local ones. Besides, relaxing entry visa requirements to attract overseas talent should be a matter of top priority."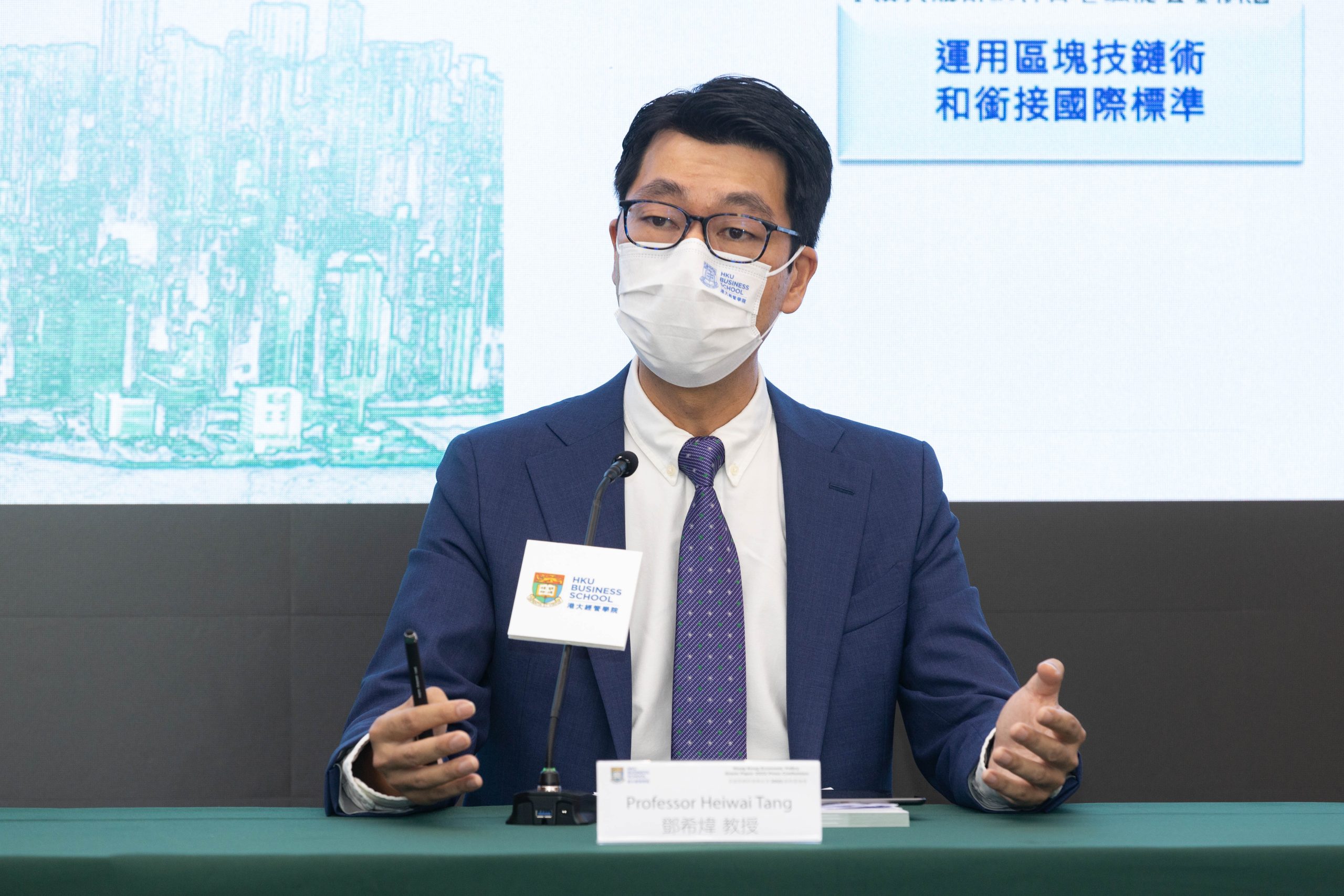 Professor Heiwai Tang, Victor and William Fung Professor in Economics of HKU Business School and Director of Asia Global Institute added, "Hong Kong's economy is unique with strengths that are not easy to replicate elsewhere. In order to help Hong Kong leverage the opportunities against the backdrop of the pandemic and geopolitical tensions, we should drive its economic transformation to foster the development of a knowledge economy buttressed by science ad technology and research and development, and enhance its effective economic collaboration and integration with other Greater Bay Area cities in keeping with Hong Kong's comparative advantages. This will contribute to the development of the region on the one hand and help overcome Hong Kong's limitations on the other. Reindustrialisation is an essential step not only to diversify the city's economic portfolio but also to help complete the ecosystem for scientific research and innovation, which will facilitate the city's role in contributing to the development of the international innovation hub along with Shenzhen."
The Green Paper comprises eight articles, focusing on the analysis and reform recommendations on policies in different areas, ranging from Hong Kong's economy, the competitiveness of Hong Kong as an international financial centre, a good-jobs city, Hong Kong as an international carbon trading hub, innovation and technology, to housing issues and the development of Northern Metropolis. The key points are as follows:
Salient Features of Hong Kong's Economic Past and What They Tell Us About the Future
Hong Kong needs an aggressive and deliberate set of policies to accumulate human capital and intangible capital, uphold integrity standards, and promote efficiency and competition in our producer services, which would require considerable private and public capital investments. Financing can be raised in Hong Kong's capital and financial markets and through the sale of its vast stock of public rental housing to sitting tenants at a discounted price.
The city must be willing to imagine a future metropolis that would be home to a population of 10 million inhabitants in the next 25 years with valuable talents and competencies. The city should seek to attract more talent. A metropolis of 10 million means attracting 100,000 per year for the next 25 years.
How Hong Kong Could Maintain its Competitiveness as an International Financial Centre
The price-to-book ratio (PB ratio) on companies listed in Hong Kong is relatively low compared to other major financial centres. 26 component firms of the prestigious Hang Seng Index (out of 69 or 37.68%) have a PB ratio below one as of 12/8/2022. If we view all firms in the index as one firm, the PB ratio is 0.83. The weaknesses in corporate governance prevent the value of these listed companies to be better reflected. Improving the book to value ratio through improved governance could turn Hong Kong's stock market valuation into the world's best.
A large number of Chinese firms currently listed in America are expected to migrate to Hong Kong in the next few years. Their corporate governance in the near future could be full of challenges for four reasons: these firms are facing a much slower growth than expected even just a few years ago; their founders are gradually exiting the firms; most of these firms employ a variable interest entity (VIE) structure that has a built-in corporate governance weak spot; the value of the assets of these firms lies mainly in intangible assets, making it much easier to divert.
Creating a Good-jobs City
Hong Kong's economy now lags behind the technological revolution led by the rapid adoption of IT and AI, and has lost some of its unique strengths in the global division of economic activities. Hong Kong faces a trio of aggregate, structural, and distributional problems. As economic growth slows down, business activities delivering mid-level incomes hollow out, and social inequalities widen. The creation of a good-jobs city would simultaneously solve these problems.
Hong Kong needs to increase industrial diversity, enlarge market size, and improve labour mobility. Also, we recommend gradual adjustments to enhance the financial sector, upgrade the service sector, and cultivate an emerging high-tech sector; these three sectors will be the basis of producing a large quantity of good jobs in Hong Kong. Four concrete policy proposals are made to help the government lead the economic transition and facilitate the redistribution of jobs towards good industries, involving talent strategy, public-private partnership in R&D investment, strategic cooperation with mainland cities, and leveraging the higher-education sector.
Hong Kong as an International Carbon Trading Hub
Hong Kong's green finance and carbon trading developments are about a decade behind other mature financial economies such as Europe. It is time to catch up and contribute to the development of the green economy in Mainland China and the region. Currently, there are limited carbon trading markets in Asia except the Mainland. An open and well-functioning carbon market can be an important attraction for global capital.
Many companies in Hong Kong's capital market have the potential to participate in carbon trading. A potential carbon trading market in Hong Kong can attract more green capital and new energy companies to raise funds and get listed in Hong Kong. Recommended strategies include: facilitating Public Private Partnerships (PPP), using blockchain technologies, and articulating international standards to avoid greenwashing; green education: include more green finance courses in Continuing Education Fund structure and; HKEX as an agent building an official platform and standards for the carbon trading market and connect with the GBA.
Hong Kong SAR's Role in the GBA's Path to Becoming a Global Innovation Hub
Hong Kong's increasing specialisation in finance and the real estate sectors have contributed significantly to the rise in income and wealth inequalities in the city. A more diversified economy would help foster sustainable and inclusive economic growth in Hong Kong. On the path to reindustrialisation and innovation, Hong Kong faces a series of challenges, including competition from other GBA cities, high costs of labour and land, high housing and rental costs, frictions in cross-border collaboration and integration, as well as the lack of R&D culture in an economy dominated by financial and professional services.
To pave its way towards innovation and reindustrialisation, we suggest the government to: implement a strengthened R&D-enhancing policy, such as R&D tax reduction and improved property rights sharing between researchers and universities; enhance measures to attract more international innovative firms to create the external economy of scale in R&D and innovation; retain existing talent, for example, a double stamp tax would be fully rebated if non-residents subsequently obtain permanent residency; enhance cross-border collaboration between Hong Kong businesses and those in other GBA cities.
Hong Kong Should Prioritise Development of Innovation and Technology to Address the Great Global Change
In the long run, the structural problem of the services sector as a heavy share (90%) of the gross domestic product (GDP) has become prominent. The government should adapt its role to changing circumstances and transform itself from purely a limited government to an organic combination of "limited + proactive government", and from an economic growth forecaster to an advocate of growth targets. By fully leveraging the promising comparative advantages of local high-end manufacturing industries as well as the Northern Metropolis development as an opportunity to propel the innovation and technology (I&T) industry. The two-pronged development strategy of the I&T industry and the financial industry will benefit the overall economic structure and promote diverse development.
The Northern Metropolis plan marks a clean break for the first time from the concept of demarcating space with administrative boundary, making direct integration of the development of "two systems" under "One Country, Two Systems" possible. Conceptual change is the first step towards nurturing breakthroughs. The government should take a proactive stance and enhance the urban functions of the Northern Metropolis, including: strengthening top-level design to highlight the development positioning of high-end manufacturing industries; providing guidance to industries with a central focus on differential development and coordinated development; serving its role to develop land and open up financing opportunities; lowering the costs of "two systems" and driving economic and trade integration of Hong Kong and Shenzhen; clearing market roadblocks to strengthen connection and collaboration among industry, academia, and R&D.
Let Public Housing Once Again Complement the Development of Hong Kong: Reducing Misallocation to Enhance Productivity
The rigidity of the public housing system creates important efficiency loss. A key source is the misallocation of the tenants and the units. There are multiple ways to incrementally improve the misallocation in the existing system, including: allocating new applicants, households with persons only aged 60 or above, and economically inactive households, to units in remote areas; a transfer scheme can be set up if workers can provide proof of long-term employment, and they may choose to live in a unit nearer to their workplace; any transfers and rehousing should consider the working and economic activity of the household for the location; an official unit exchange system can be hosted for tenants to exchange units at their convenience to increase the utility of public rental housing units.
The GBA will in turn address Hong Kong's housing shortage problem. In the 2016 by-census sample, around one-fifth of public rental households consisted entirely of retired persons. Moving to the GBA could be an upgrade to some of their retirement lives. The occupied units are then freed up and reallocated to the labour force of Hong Kong, enhancing overall productivity. With the Guangdong Scheme, seniors can enjoy better-quality elderly homes in terms of both services and the environment. If Hong Kong lacks the factors of production for such provision, outsourcing it to the GBA, and establishing "silver estates" for the elderly to build their own communities may be a better choice.
What Caused Hong Kong's Housing Crisis?
Hong Kong's unusual housing affordability crisis was caused by unresponsive public-sector rents that made low-end housing prices extraordinarily sensitive to inadequate housing supply. Allowing existing public owners to freely let their Homeownership Scheme and Tenant Purchase Scheme units without the payment of a land premium would benefit both public owners and low-income private renters, and it would not raise the rents of public renters. Public owners would retain the option to stay in their units while gaining the option to earn rental income. Low-income private renters could then rent from a broader set of low-end units and hence will face less exorbitant rents. This reform can be done without significant administrative costs and does not require finding land for new construction. Given its lack of downsides, it is recommended that the administration enact this change as soon as possible.
In the longer run, the government should strongly consider selling public housing to sitting tenants at low prices and allowing buyers to lease out units. This way, the prices of low-end housing will no longer be so sensitive to housing market conditions, and subdivided houses will no longer be a recurrent feature of Hong Kong's housing market.
Full version of Green Paper can be accessed here.