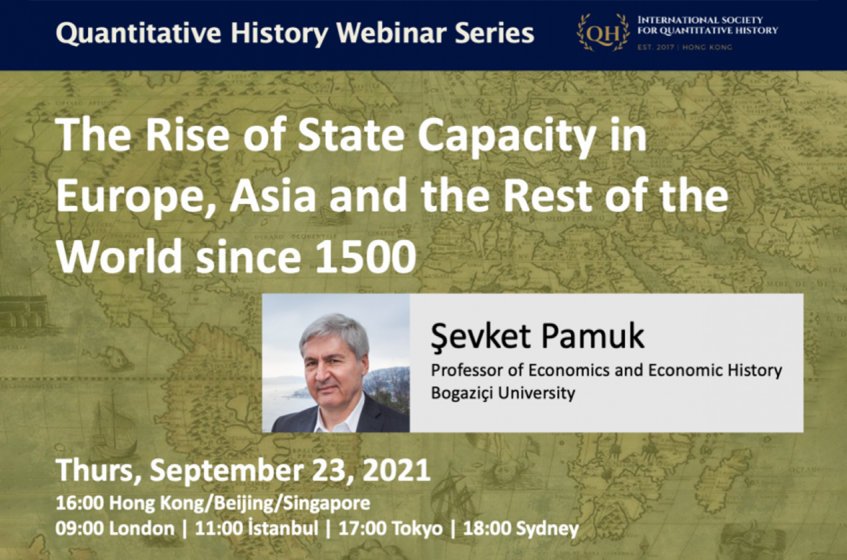 23

Sep
Economics, Seminar Calendar
The Rise of State Capacity in Europe, Asia and the Rest of the World since 1500
23 Sep 2021 | 16:00 - 17:30
Zoom Webinar
INFORMATION
The Rise of State Capacity in Europe, Asia and the Rest of the World since 1500
State capacity has emerged as a key concept in the literature on development economics and political economy. Economic historians have also been providing important insights into the relationship between the rise of modern states and economic growth in the long run.
In this Quantitative History Webinar, Şevket Pamuk of Boğaziçi (Bosphorus) University will review the rise of state capacity (and the Tax Revenues / GDP ratio) around the world since 1500 based on joint work with Kivanç Karaman. He will also explore the implications of the early rise of state capacity in Europe on Asia and the rest of the world since 1800. He will argue that while the European and the non-European paths may seem similar, state capacity was and continue to be built under very different circumstances in Europe and in the rest of the world.
Live on Zoom on September 23, 2021
16:00 Hong Kong/Beijing/Singapore
09:00 London | 11:00 Istanbul | 17:00 Tokyo | 18:00 Sydney
Calculate your local time
About the Quantitative History Webinar Series
The Quantitative History Webinar Series, convened by Professor Zhiwu Chen and Dr. Chicheng Ma of The University of Hong Kong (HKU), aims to provide researchers, teachers and students with an online intellectual platform to keep up to date with the latest research in the field, promoting the dissemination of research findings and interdisciplinary use of quantitative methods in historical research. The Series is co-organized by the International Society for Quantitative History, HKU Business School, and the Asia Global Institute (AGI).
Conveners:
Professor Zhiwu Chen
Dr. Chicheng Ma