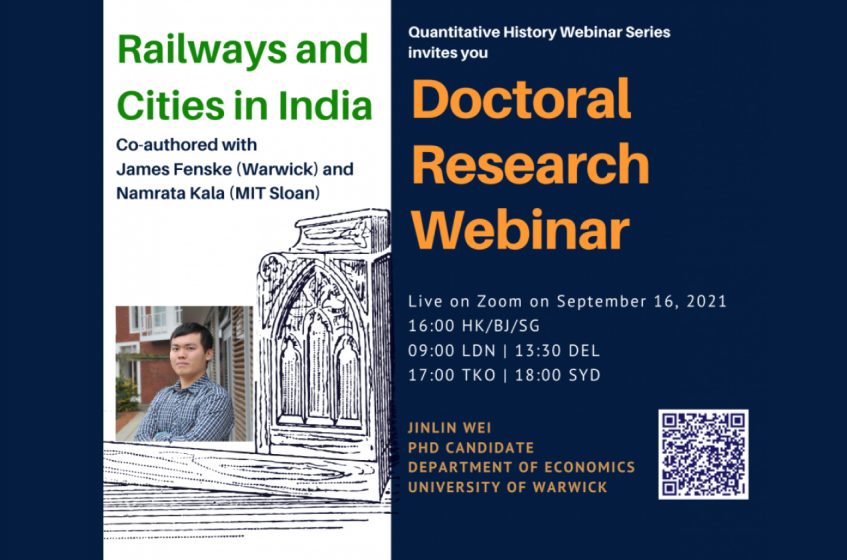 16

Sep
Economics, Seminar Calendar
Railways and Cities in India
16 Sep 2021 | 16:00 - 17:30
Zoom Webinar
INFORMATION
Railways and Cities in India
Jinlin Wei, PhD candidate from Warwick Department of Economics, will present his co-authored paper: "Railways and Cities in India"
Jinlin Wei of Warwick University and his co-authors examine how railways affected urban population in India between 1881 and 1931. The construction of railways in India started in 1853 and there were already more than 40,000 miles of railways in India by 1931. The expansion of railways in India increased urban population in cities during this period.
In order to identify the causal impact of proximity to railways, they construct an instrumental variable based on least cost paths that connect pre-existing cities in India before railway construction started. The least cost paths were constructed based on terrain slopes between city pairs that have high market potential. Using changes over time in how proximity to these paths predict proximity to railways, they find that urban population in Indian cities increased as railways expanded, and cities achieved better access to railways.
To investigate the mechanisms that drive the increase in urban population, they construct measures of market access – a concept that links transportation costs to population. They find that city size increased in response to better access to railways, as cities had lower transportation costs to other cities and better market access after receiving railways. The effects are larger for initially small, isolated cities that did not have alternative transportation routes such as ports and rivers.
In this Quantitative History Webinar, Jinlin Wei will explain how better access to railways increased urban populations via the channel of market access.
Jinlin's co-authors: James Fenske (Warwick) and Namrata Kala (MIT)
Live on Zoom on September 16, 2021
16:00 Hong Kong/Beijing/Singapore
09:00 London | 13:30 New Delhi | 17:00 Tokyo | 18:00 Sydney
Calculate your local time
About the Quantitative History Webinar Series
The Quantitative History Webinar Series, convened by Professor Zhiwu Chen and Dr. Chicheng Ma of The University of Hong Kong (HKU), aims to provide researchers, teachers and students with an online intellectual platform to keep up to date with the latest research in the field, promoting the dissemination of research findings and interdisciplinary use of quantitative methods in historical research. The Series is co-organized by the International Society for Quantitative History, HKU Business School, and the Asia Global Institute (AGI).
Conveners:
Professor Zhiwu Chen
Dr. Chicheng Ma