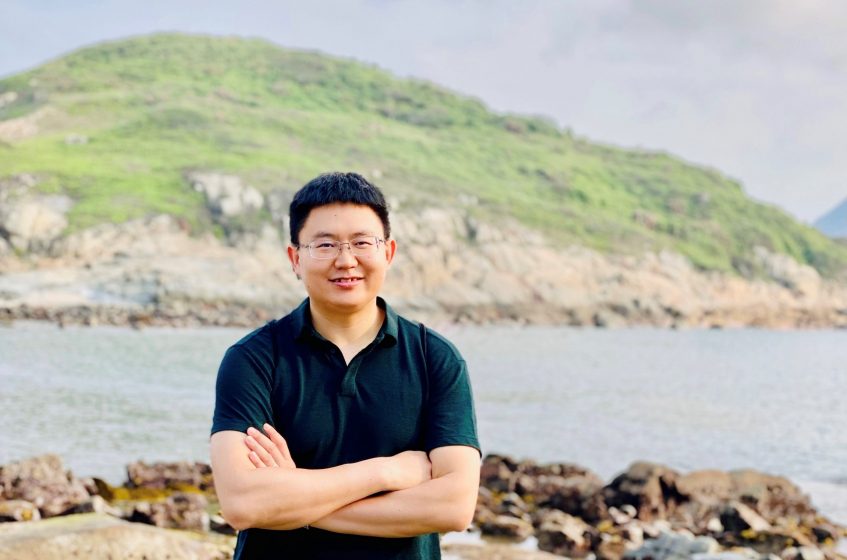 Researching for the Betterment of Environmental Protection and the Civilian Wellbeing – Dr. Guojun He
27 Oct 2021
Dr. Guojun He is an economist specialised in environmental economics and development economics. Grasping the opportunity to spearhead the line of research related to environmental and economic policies in HKU, Dr. He had officially joined us in July 2021 as an Associate Professor in Economics.
Fascinated by economics practicality
"When I started studying economics in college, I was deeply impressed by how efficient and practical that this discipline is in bridging academic knowledge to the real world. I can see how economics adds positive values to the betterment of the society," said Dr. He. In retrospect, Dr. He is grateful to have the serendipity to learn from renowned scholars. He added, "I was lucky enough to be taught by elite Chinese economists such as Professor Justin Yifu Lin and Professor Yingyi Qian in my undergraduate years, and received guidance from other established professors during my postgraduate and postdoctoral years in University of California, Berkeley and Harvard University respectively. Their guidance has nurtured my interests in academic research and has caused me passionate to learn more about the unknown."
As China is developing rapidly over the years, the process of industrialisation also brings environmental pollution. Against this backdrop, Dr. He hopes to leverage his economic knowledge to improve this status quo. On the one hand, he aims to provide guidance to policy makers by studying the effectiveness of environmental policies, and analyse the costs and benefits from industrial activities; on the other hand, he aims to strategise different incentive mechanisms to improve the performances of frontline civil servants in order to provide better public services.
Can the public help in policy execution?
Since 2013, the Chinese government had required firms to reveal real time data of their discharge and emissions activities, as means to facilitate authorities to combat illegal discharge. In this context, Dr. He had decided to carry out a randomised control trial to investigate whether civilians participate in the monitoring process will be conducive to the authorities. By hiring a large number of volunteers to monitor industrial sites with serious pollution records, Dr. He observed that civilians' assistance can indeed improve the authorities' efficiency. "The authorities will quickly respond to citizens' complaints. Moreover, if firms realised that they are being eyed-on, the chance that they would violate the emission standards again will reduce by 50% on average," said Dr. He.
Better working performance than flatter two bosses in tandem
In the sphere of economic development, Dr. He is devoted to investigating how the government can improve governance and provide better public services. "It is one of the most challenging issues the government faces, both now and in the future, that's why I want to study it." Dr. He added.In one of his studies, Dr. He designed an assessment mechanism for civil servants at basic rank in the mainland to relieve the problem of "flattering the supervisor." Dr. He explained that as duties of basic rank civil servants are very diverse, it is difficult to assess them objectively. As such, some civil servants tend to focus more on flattering their assessment officer rather than focusing on their work. "However, I believe that this will be a way much harder to achieve if you don't even know who is going to assess you. So our research team proposed that the local government should randomly choose the assessment officers among a civil servant's two supervisors, and the candidate will only know who will be the real deal on the assessment date," said Dr. He. Flattering two officers in tandem will make the person look "disloyal", but appeasing only one officer will likely lead to resentment from the other one. Dr. He posited that, "Under such circumstances, the person will focus more on work than kowtowing, which will be appreciated by both supervisors."
The first environmental economist in HKU
Other than focusing on his research work, Dr. He is also a dedicated educator. "When I was teaching in another local university, I observed that non-business majors students were also interested in taking business courses, especially those focusing on social problems. Although some of them felt inevitably unconfident due to the lack of economics knowledge, I had made sure that there was always a mixture of business and non-business majors in each project group so that they could learn from each other," said Dr. He. By enabling students to understand business issues with a multi-disciplinary lens, many non-business students have developed strong interests in economics research and knowledge creation. To Dr. He, this is his most gratifying teaching experience in Hong Kong.
Joining HKU Business school, Dr. He will be teaching two new courses about environmental economics for both the undergraduates and postgraduates. Dr. He told us that, "Environmental economics has become a hot topic recently, so I am very honoured to be entrusted by the Faculty's management to be a pioneer in this field. Through education, I hope I can also open a new research area for aspiring young scholars to join the academia."