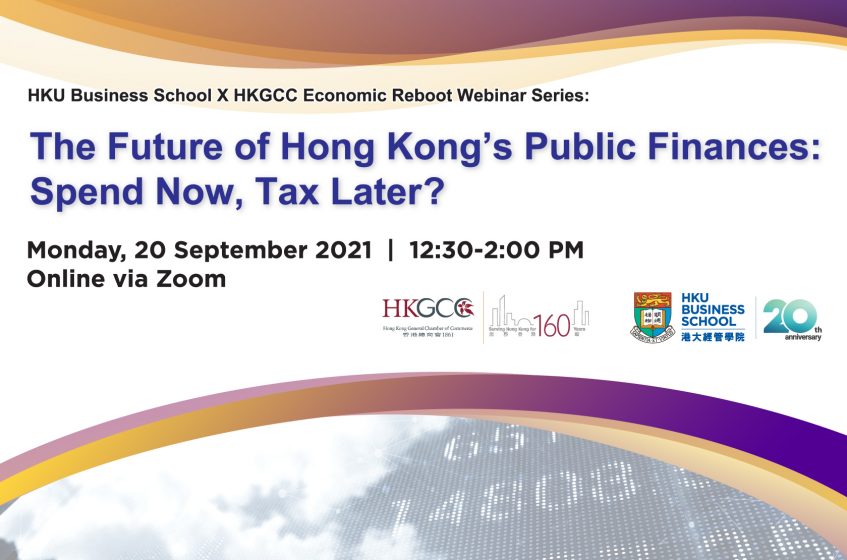 20

Sep
Seminar Calendar, Economics
HKU Business School x HKGCC Economic Reboot Webinar Series – The Future of Hong Kong's Public Finances: Spend Now, Tax Later?
20 Sep 2021 | 12:30 - 14:00
Zoom webinar
Date: Monday, 20 September 2021
Time: 12:30-2:00 pm (HKT/GMT+8)
Format: Online via Zoom
Language: English
Enquiries: fbecomm@hku.hk
Fee: HKGCC member HKD $100 /non-member HKD$200 / HKU students, staff and alumni Free of charge
Registration Deadline: 15 September, 2021 (Wednesday) 10:00am
Standing proudly next to our 20th anniversary milestone, HKU Business School shall accelerate its steadfast footsteps and strive to become the thought leader of the Hong Kong society. Earlier this year, we had gathered our academic intellect to publish the "Hong Kong Economic Policy Green Paper 2021" to inspire policy makers on strategising new ways of breakthrough; Later in May, we had organised the first of our Thought Leadership Conference Series — the "Future of Hong Kong Economy" Conference, to solicit insights from local business and political elites. In the second half of 2021, starting from July, we join hands with The Hong Kong General Chamber of Commerce (HKGCC) to launch a series of webinars to further discuss some of the more pressing issues faced in Hong Kong. Topics include the role and size of government, brain drain, social inequality and ageing population, and bolstering public finance.
Facing the problem of aging population and reforms in the global tax regimes, the third session will discuss the challenges our city's tax regime and public financing systems will be facing.
Interested HKU students, staff and alumni, can join us on September 20, for a lively webinar chaired by Dr. Stephen Chiu, Associate Professor of Economics at HKU Business School and Mr. Andrew Fennell, the Lead Analyst for China and Hong Kong at Fitch Ratings. They will share their thoughts on ways to address the city's narrow tax base amid the pandemic, our changing demographics, as well as the likely impact of the global tax revamp. All sessions in the series will be moderated by Mr. Tony Miller, Chairman of the Chamber's Economic Policy Committee.
Speakers' bios
Dr. Stephen Chiu is a local veteran scholar. As an economic theorist, Dr. Chiu is interested in contract design, college admissions, and demography and political economy of reform.
Mr. Andrew Fennell is the lead Analyst for China and Hong Kong at Fitch Ratings. He had served in Morgan Stanley and Savills and accumulated rich experience in credit risk management and global real estate services.