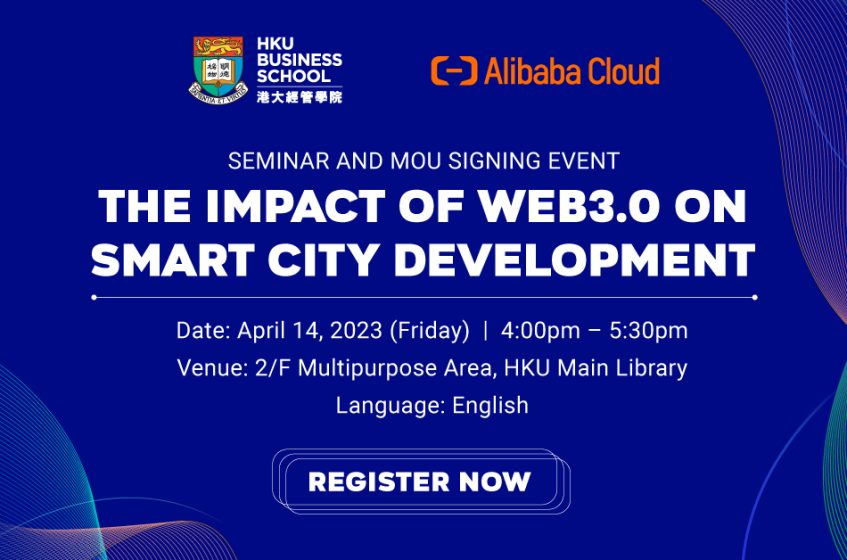 14

Apr
HKU Business School and Alibaba Cloud Seminar and MoU Signing Event: The Impact of Web3.0 on Smart City Development
14 April, 2023 (Friday) | 16:00 - 17:30
2/F Multipurpose Area, HKU Main Library
Web3.0 and cloud technologies are transforming how governments, academia, and firms approach to a Smart City. Under this rapidly developing phenomenon, there is an expanding need to prepare individuals to acquire the skills and knowledge through talent development and career-sharing initiatives to succeed.
By hosting the Seminar and MoU Signing Event, HKU Business School and Alibaba Cloud hope to bring talent, industry experts, and aspiring professionals together to build a more sustainable and equitable future
Details
Date: April 14, 2023 (Friday)
Time: 4:00p.m. – 5:30p.m.
Venue: 2/F Multipurpose Area, HKU Main Library
Language: English
Participation mode: Physical / Online
Agenda:
3:45p.m. – 4:00p.m. Registration
4:00p.m. – 4:30p.m. MoU Signing Ceremony between HKU Business School and Alibaba Cloud
4:30p.m. – 5:30p.m. "The Impact of Web3.0 on Smart City Development" Seminar
MoU Signing Ceremony Signatories:
Professor Hongbin Cai – Dean of HKU Business School
Mr. Leo Liu – General Manager of Hong Kong, Macau region and Philippines, Alibaba Cloud Intelligence
Seminar Speakers:
Mr. Joseph Chan – Associate Director, Centre for Asian Entrepreneurship and Business Values and Senior Lecturer, HKU Business School
Mr. Patrick Chan – Solutions Architect – Public Sector, Alibaba Cloud Intelligence Hong Kong & Macau
Mr. Clarence Ng – Head of Alibaba Cloud International Training Operations, Alibaba Cloud Intelligence
*The agenda is subject to change without prior notice.