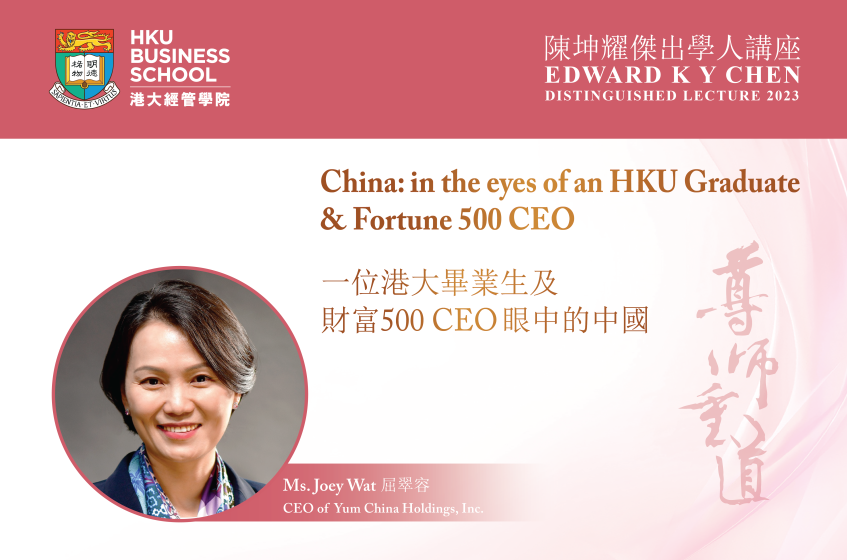 20

Feb
Edward K Y Chen Distinguished Lecture 2023
20 February, 2023 (Monday) | 17:30 - 19:15
Loke Yew Hall, The University of Hong Kong
China: in the eyes of an HKU Graduate & Fortune 500 CEO
一位港大畢業生及財富500 CEO眼中的中國
Date: 20 February, 2023 (Monday)
Time: 17:30 – 19:15
Location: Loke Yew Hall, The University of Hong Kong
Synopsis
Since 2020, COVID has brought profound disruptions to the restaurant industry. Reduced mobility, recurring lockdowns, changed consumer behaviors and rising cost inflation are just few of the major challenges faced. In this unprecedented and volatile environment, Yum China, the largest restaurant company in China, has demonstrated exemplary agility and resilience. The company pivoted quickly, innovated and delivered solid financial performance throughout the period. Moreover, it continued to expand its store portfolio and tap into new brands in China. Joey will share her learnings in this long battle as well as insights from her invaluable experience turning around businesses in UK and China. 
Keynote Speaker
Ms. Joey Wat
CEO, Yum China Holdings, Inc.
Joey Wat is CEO of Yum China (NYSE: YUMC & HKEX: 9987), a Fortune 500 Company, and has been a member of Yum China's board of directors since July 2017. Yum China separated from Yum! Brands, Inc. and became an independently listed company on the New York Stock Exchange on November 1, 2016. Ms. Wat served as the President and COO of Yum China from 2017 – 2018, and as CEO of KFC China from 2015 – 2017. Before joining YUM China Division in 2014, Ms. Wat served in both management and strategy positions at AS Watson of Hutchison Group in the U.K. from 2004. Her last position at Watson was as Managing Director of Watson U.K. Before joining Watson, Ms. Wat spent seven years in management consulting including with McKinsey & Company in Hong Kong from 2000 to 2003. Wat holds an MBA from the Kellogg School of Management and a bachelor's degree from the University of Hong Kong. Wat was included in the Forbes World's Most Powerful Women list from 2020 to 2022, and Fortune's Top 50 Most Powerful Women in International Business from 2018 to 2021.
Moderator
Professor Christine Chan
Associate Dean (Outreach and Global Engagement), HKU Business School