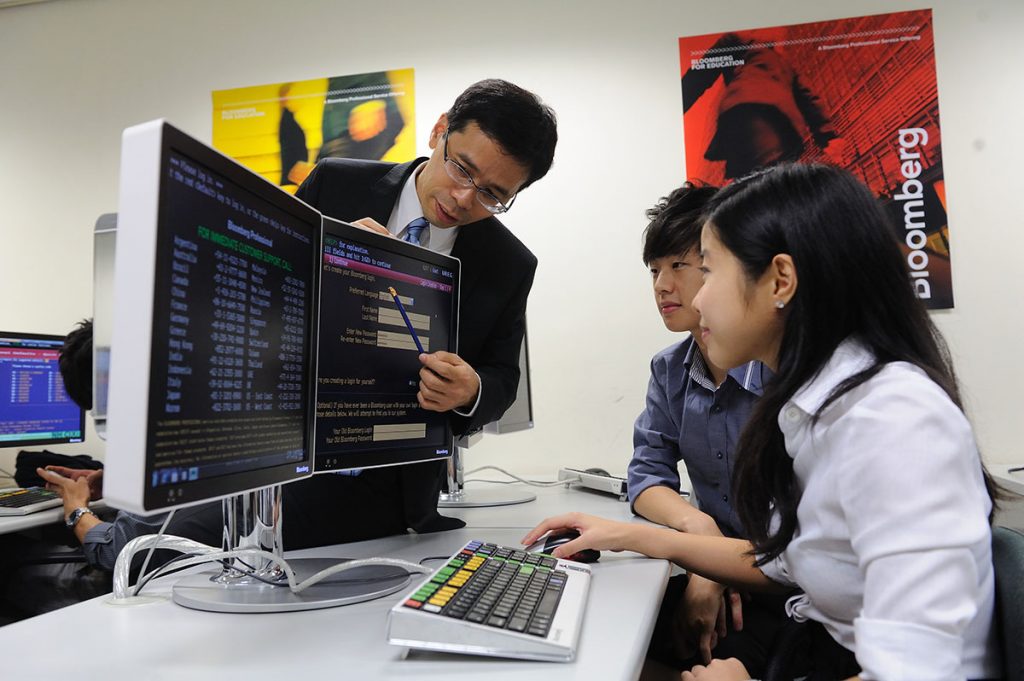 Getting started with Bloomberg
Open your Bloomberg account. You must register with Bloomberg by creating a login name and password via a Bloomberg Terminal.
Make sure you register with the official name that appears on your HKU UID card. This is the name that is printed on your Bloomberg Certificate if you pass Bloomberg's certification examinations (See Chapter 1 of the FBE Bloomberg Users' Manual for details).
You should open only one account for yourself.
Learn the basic commands and navigation techniques, type BU and watch Bloomberg's online tutorials and other training materials from Bloomberg University.
Download the Bloomberg cheat sheets by typing DOCS cheatsheet, and then hit the GO key.
Bloomberg User Manual
Chapter 1   Getting Started and Basics
Chapter 2   Macroeconomic Analysis
Chapter 3   Fundamental Analysis
Chapter 4   Corporate Finance Issues
Chapter 5   Portfolio and Risk Analysis
Chapter 6   Pricing and valuation for derivatives
Chapter 7   Job Searching and Interview Preparation
To access the above manual, please login HKU Portal and go to My eLearning, click on "BLOOMBERG_FBE HKU Bloomberg User Manual [2022]".
Operating Rules
Do not eat or drink.
Remain quiet and do not disturb other users. Switch off your mobile phone or trun it to silence mode.
Do not download excessive amount of data from the Bloomberg terminals.
Bloomberg users have priority to use the Bloomberg Terminals. If you are not using Bloomberg, please use the 8 non-Bloomberg Terminals.
Do not twist the Bloomberg dual monitor or pull the cables attached to it.
Remember to log off from the Bloomberg before you leave.
10-minute rule: If you are away from a Bloomberg terminal for more than 10 minutes, other users waiting will have the right to waiting to use it.
The Bloomberg Lab is equipped with 24-hour survillance cameras.
Opening Hours
Location: KK 1009, K.K. Leung Building, HKU
Opening hours: 9:30am – 5:30pm * (Monday to Friday, except for public and University holidays)
*The Lab will not be opened for students during tutorial classes and maintenance. Please check the tutorial/maintenance schedule by the door of the Lab.
Support and Assistance
If you have any questions about how to use Bloomberg, please contact Bloomberg's 24-hour Help Desk by pressing the green  key twice.
For matters related to the Lab's operation, such as lighting, air conditioning and disciplinary issues, please contact our General Office staff at the 7/F of K.K. Leung Building or call us at (852) 3917-1000 during office hours.
For hardware or IT technical problems, please send email to our IT team.