學院消息
L'Oréal Brandstorm 2022 – Hong Kong National Champion (Tech Track)
27 Jun 2022
Background:
The L'Oréal Brandstorm is an international innovation case competition with participants from  65 countries. This year, more than 1300 registrants with 270 teams from 3 tracks – Green, Inclusion, and Tech have pitched their projects in Hong Kong. Each participating team consisting of 3 members shall come up with an unconventional solution to pitch to the L'Oréal experts. The competition provides an opportunity for students to be mentored by L'Oréal business experts and stay in touch with recruiters. Winning teams can enjoy coaching from L'Oréal's colleagues and fast-track applications to L'Oréal's Internship or Management Trainee in Hong Kong. The global winning teams will get an Intrapreneurship experience in L'Oréal Global Headquarters in Paris and make their ideas come true.
The first phase of the competition took place in Hong Kong. Teams were required to submit a 1-minute pitch video together with a 3-page presentation slides. Shortlisted teams had to submit a 5-minutes presentation video and 5-slide deck. 4 finalist teams from each track were selected to compete for the Championship in the National Finals, and the finalists had to give a 5-minute LIVE pitch coupled with a 5-minute Q&A session to the panel of judges. The Champion Team was selected from each track (Green, Inclusion, Tech) to represent Hong Kong in the International Semi-Finals.
The Hong Kong Champion Teams have been invited to join the International Final, 3 tickets will be given to the popular projects for each track, which is to be voted by the public, Loreal Employees, and the Official experts' jury respectively.
Website / Image URL: 
https://brandstorm.loreal.com/en
Award(s):
L'Oréal Brandstorm Hong Kong Final – Tech Track: National Champion
Awardee(s):
Team name: Quantum Leap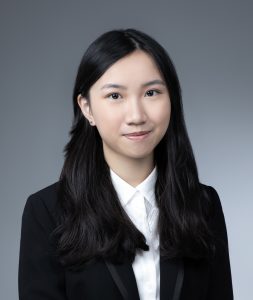 Miss Wong Ching Wai, BFin(AMPB) , Year 1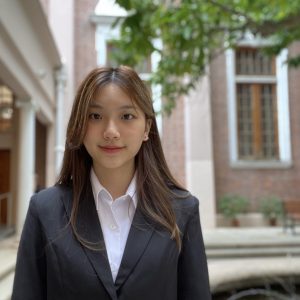 Miss Lam Ki Yuk Annika, BFin(AMPB) , Year 1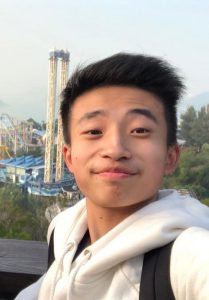 Mr. Kwok Ming Kin Thomas, BFin(AMPB) , Year 1
Students Sharing:
"L'Oréal Brandstorm will own an irreplaceable place in my heart forever. "Congratulations Team Quantum!". The unexpected name-call caught all of us by surprise. We had joined the competition lightheartedly, only intending to create beautiful memories together during the competition. Little did we know, as the rounds progressed, we ended up pouring our hearts and souls into it with great passion. Our mission is to revolutionize beauty with an all-in-one makeup device for any gender, race, or sexuality. The competition embarked us to express our entrepreneurial spirit, also, the holistic learning path really boosted my professional skillsets. I realized the importance of thinking outside of the box, and being bold and ambitious about our innovation. I will never forget the daily midnight meetings, where we worked very hard until our eyes went square, to develop and modify our product plan every round. Most importantly, we genuinely had lots of fun along the journey, working and joking around. There were many moments when we felt like we should give up, fortunately, we motivated each other and leaped through all the hurdles with perseverance. We came back stronger than ever.
Special thanks to my talented partners, we complemented each other very well. Our team spirit really shined through in the National Finals, I have never been so excited about pitching in the style of a role-play. Coming from the same AMPB cohort, we are each other's greatest companions, I am so glad that we got to experience this together!"
(by Wong Ching Wai Hazel)
"L'Oréal Brandstorm was the first case competition I've ever joined. It was refreshing, insightful, and incredibly humbling. First, I was able to learn about product designing, marketing, and budgeting. This was one of the most important components of our proposal as we had to make our idea pop. We also stubbornly chose the futuristic idea as our main aesthetic, which complicated every step of our way since none of us possessed any strong IT knowledge. We had to sacrifice a lot of our free time and, not to mention, our studies. We had to juggle between our midterms and work at the time, but on the flip side, it forced us to learn to manage our time. Secondly, I learnt how to use several editing software including Photoshop and Canva. Had it not been for the competition, I would've never used these softwares! Lastly, it was immensely joyous to work with such intelligent young people, and I was blessed to be in a team with my close friends in the cohort. Together, we went through 3 rounds in Hong Kong and we always came back strong and motivated. When we encountered obstacles, we always approached it positively. Besides commenting on us, seeing other groups' presentations was humbling to me as theirs were also just as developed and thought-through as ours were. In the coming years, I hope to gain more exposure and connections in future case competitions."
(by Lam Ki Yuk Annika)
"Though the L'Oréal Brandstorm was not my first case competition, it was probably the most groundbreaking and epoch-making one. In light of the high degree of creative freedom given, we decided to develop a product that revolutionizes the way YOU can makeup. The only requirement was to design a product for 2030. With the knowledge we learned during our first year of study here at the HKU, we were able to propose a detailed timeline for the product-designing, raw material outsourcing, production, and sales. Doubtlessly, having only a creative idea was not enough to make us win. What made us stand out was the way how we presented our business idea. Therefore, having an informative, catchy, and clear PowerPoint presentation slide was fundamental to our success in this competition. Frankly speaking, neither of us came from a solid IT background. Hence, creating 3D prototypes and animated pitching videos of our product deemed to be our biggest obstacle. Nevertheless, we did not give up and we thrived to learn the relevant IT knowledge on our own during the three months. Eventually, our self-learning effort paid off and we were able to seal an outstanding presentation. Throughout the competition journey, my biggest reward was learning the importance of persistence. No matter how seemingly insurmountable the task was, the key was to never give up and trust your teammates and yourself. It was genuinely my pleasure to team up with the two intelligent, outstanding, and forward-thinking young lads. I will keep staying humble to face more difficult challenges in the future."
(by Kowk Ming Kin Thomas)