Embraced by the long history and strong reputation of The University of Hong Kong, HKU Business School has grown and evolved over the years with new initiatives and approaches. To unveil the new journey of the School, we are delighted to launch the new branding logo and tagline.
Stepping into its 20th Anniversary, the launch of the new branding logo and tagline represents the beginning of another exciting journey for HKU Business School, to nurture a new generation of leaders in this fast-changing business world, to advance the frontiers of knowledge creation, and to become a leading, globally-impactful institution in business and economics education.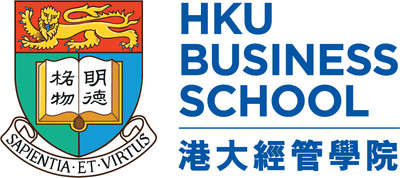 The overall design of the new branding logo is based on the concept of simplicity and professionalism. A colour of blue is adopted as the new brand colour of the School to demonstrate a young and vibrant image.
The new logo adopts a contemporary font style. "HKU Business School" and "港大經管學院" are used as the new branding identity to highlight not only the academic and research strength of the School, including accounting, economics, finance, innovation and information system, management and strategy as well as marketing, but also emphasise our focus in providing quality business education to the new generations.
The bilingual name of the School also better reflects its international and modern image, while keeping the HKU shield at a significant position to indicate the solid foundation, connection and support from HKU. This combination creates a specific visual statement, representing the modern-classic aspect of the School.

Contributed by: Mr. Sachin Tipnis (Alumnus & Current Staff)
In addition to the new branding logo, the first-ever tagline for HKU Business School is also developed. "Inspire.Empower.Lead", is a tagline that built from the concerted effort of all HKU Business School members. These three simple yet powerful words soundly echo the missions of HKU Business School – To encourage and INSPIRE new ideas and initiatives; to EMPOWER students to excel; as well as to LEAD in the frontier of knowledge creation.